Amedeo Modigliani was an Italian Jewish artist with an interesting life and an equally interesting body of work. Born in Livorno, Italy in 1884, he had health problems since his teen years which led to his early death in 1920 at the age of thirty-five. While he did not receive much praise and recognition during his lifetime, appreciation for his art grew after his death. Modigliani mainly worked in Paris after moving there in 1906 and underwent a major transformation. He became like a vagabond and assumed the form of the tragic artist. Some of his contemporaries believed this brought a new aspect to Modigliani's art. However, some art historians think he could have attained greater fame and skill had he not been so self-indulgent with drinking and drugs.
Both the artist and his mother knew he would become an artist and his career began early when she enrolled him with Guglielmo Micheli, the best painting master in Livorno at the time. Modigliani studied with Micheli from 1898 to 1900 with instruction based on 19th-century Italian art and a focus on landscape, portraiture, still life and the nude. This would greatly influence his later paintings, drawings and sculptures. Modigliani was inspired by other artists, including Giovanni Boldini, Toulouse-Lautrec, Domenico Morelli, and Paul Cézanne. The art of antiquity, the Renaissance in Italy and the linear forms of African sculpture also inspired Modigliani's unique style. In 1902, Modogliani enrolled in the Scuola Libera di Nudo (Free School of Nude Studies) of the Accademia di Belle Arti in Florence to continue to study and practice in drawing.
The painting Nu couché from this collection sold for $170,405,000 in New York in November 2015, making it the most expensive Modigliani painting ever sold. The nude seems to have been one of Modigliani's favourite types of paintings and he was very good at them. Modigliani left quite the legacy after his untimely death. There were some films made portraying his life as well as biographies and songs written about him. His body of work has also become popular. It is believed Modigliani made many other works that have been lost either because he destroyed them out of dislike, they were left behind after one of his many moves and/or thrown away by girlfriends as they did not want them. Despite painting during a time of many artistic movements, Modigliani made his own style and cannot be placed into any one box. His painting and sculpture style is unique and still inspires artists today.
They are somewhat abstract but also reflect the true appearance of the subject. Some paintings have more defined features than others but all have a similar style. Many of the subjects of his portraits were his contemporaries and friends, including Pablo Picasso. He also depicts everyday people in their working clothes either sitting down or from the shoulders up. Modigliani commonly used one of his lovers, Beatrice Hastings, for his portraits when they were together, including the one titled Madame Pompadour (1915). Jeanne Hébuterne was also a common subject of Modigliani's after they moved in together and started a romantic relationship in 1917.
The nude was another common theme of Modigliani's. These paintings often depicted women reclining on a couch or sitting on a bed with a certain aesthetic: dark hair and pale skin. This is said to have been Modigliani's preferred aesthetic, possibly because it reflected his own. This aesthetic was embodied in a Russian poet named Anna Akhmatova with whom Modigliani had an affair for a year in 1910. Modigliani's nude paintings in the series Nude Sitting on a Divan were some of his most successful and praised pieces. They were commissioned by Léopold Zborowski and exhibited at a show in Paris in 1917, which caused quite a stir.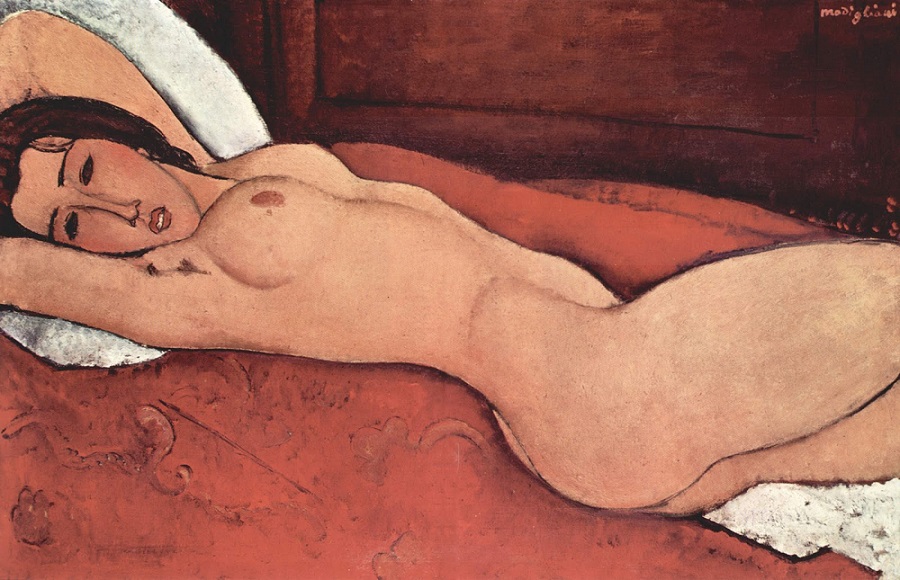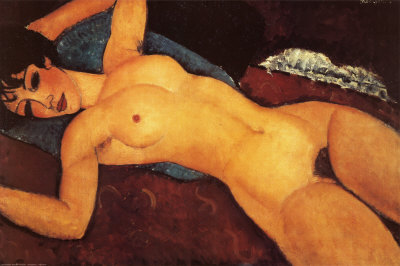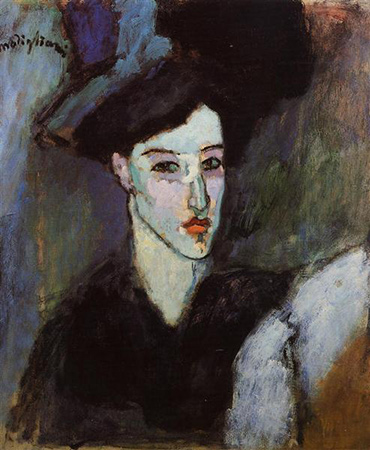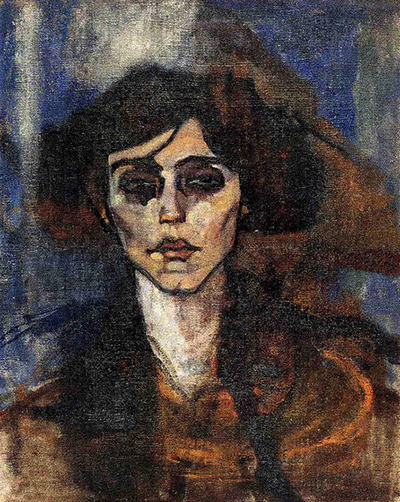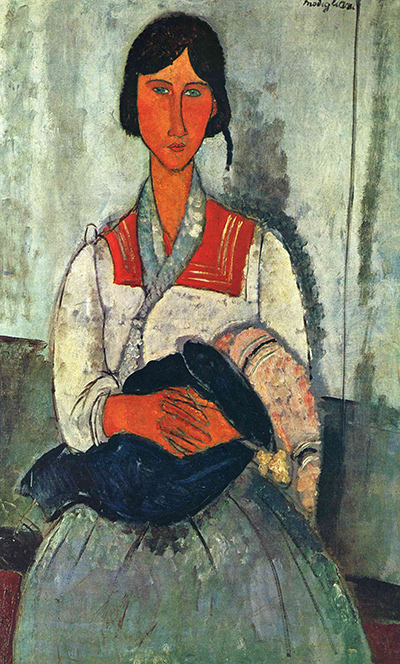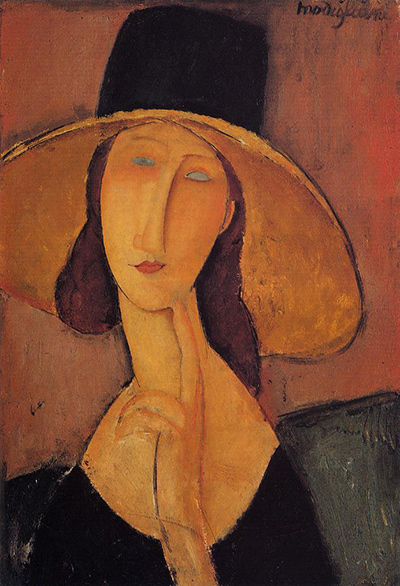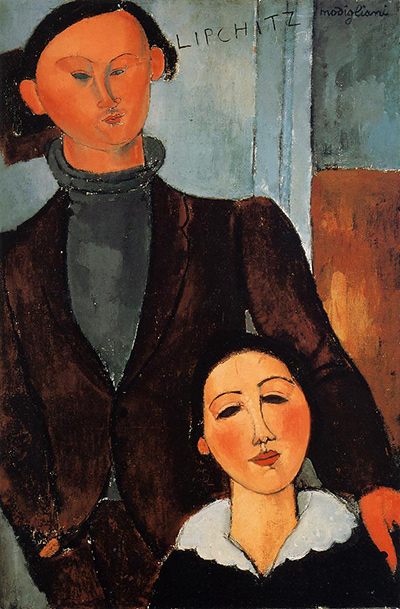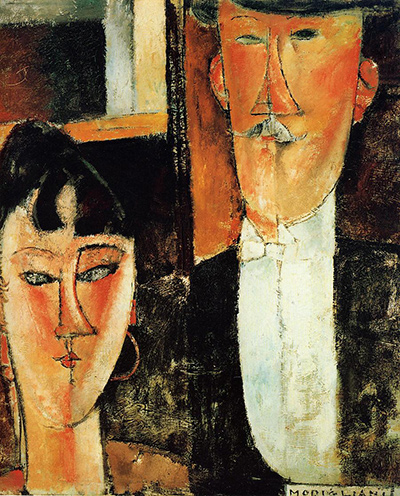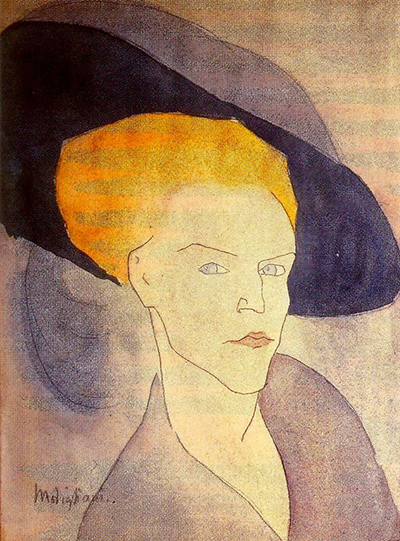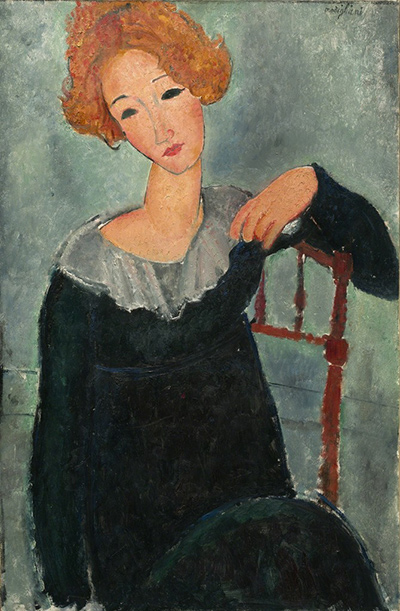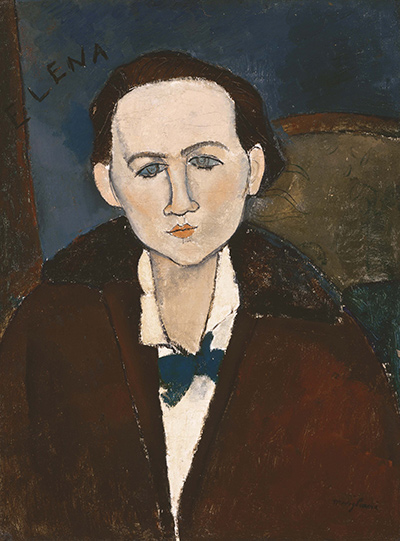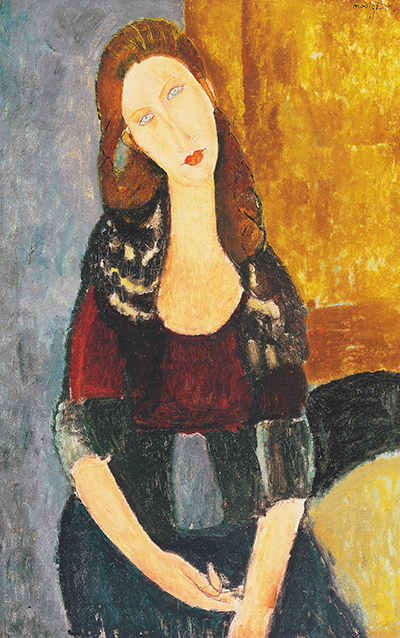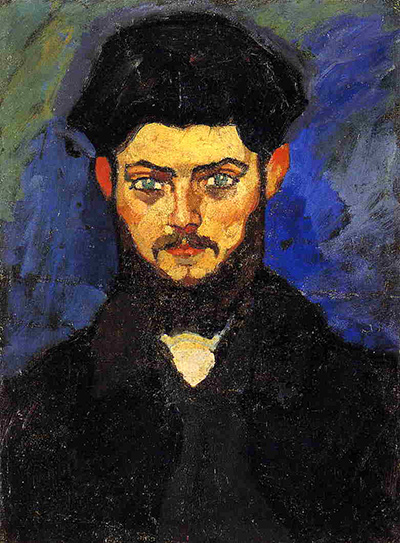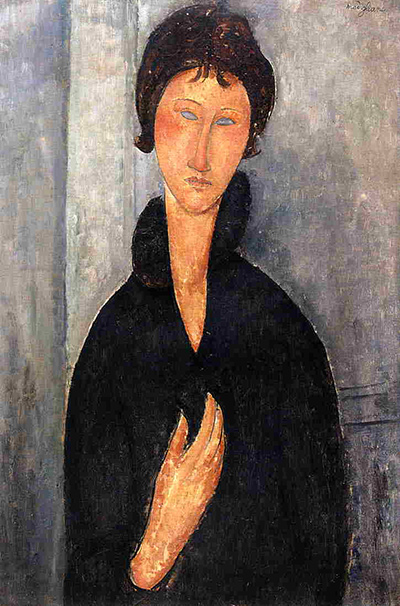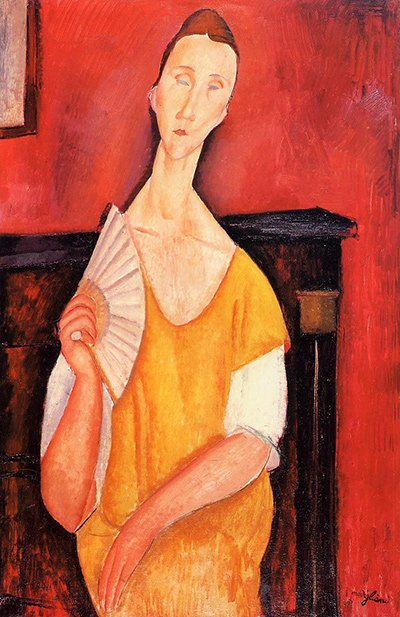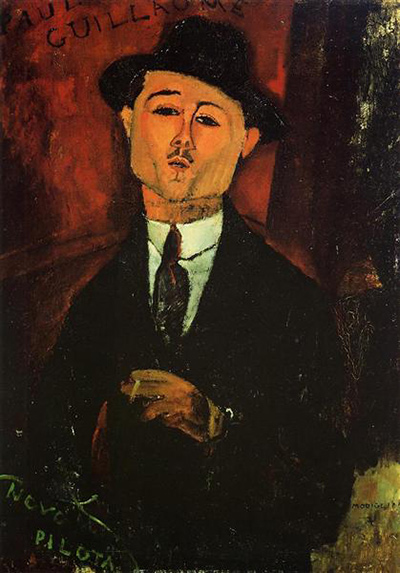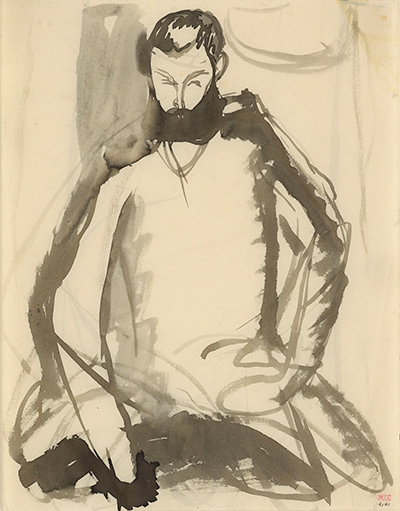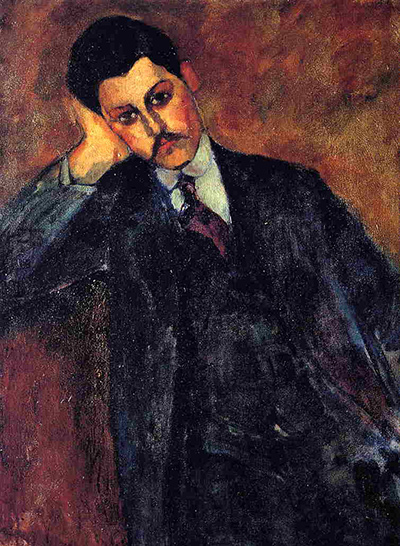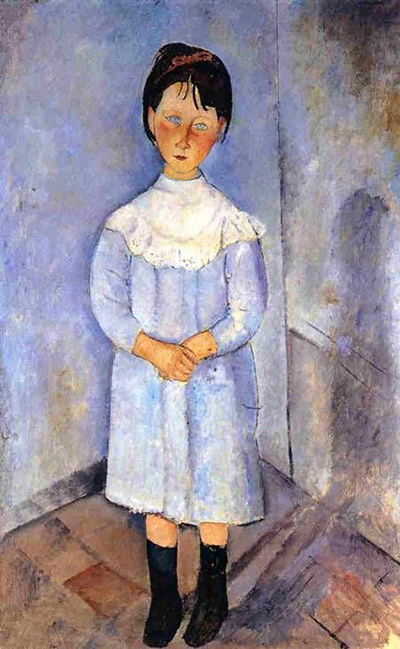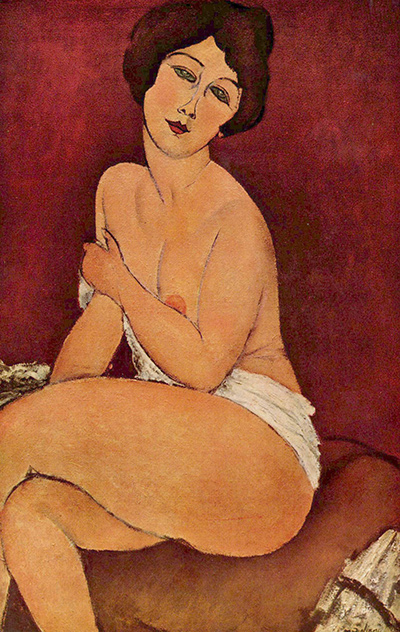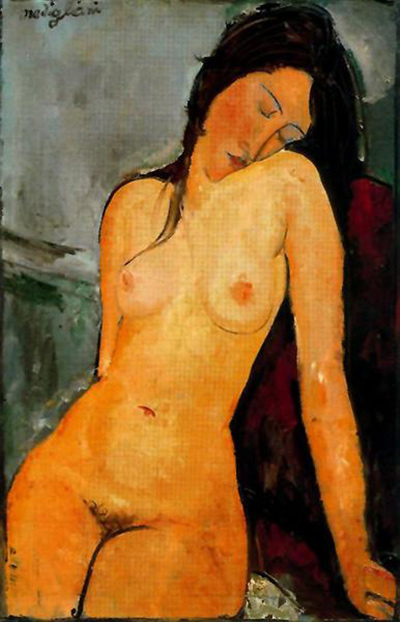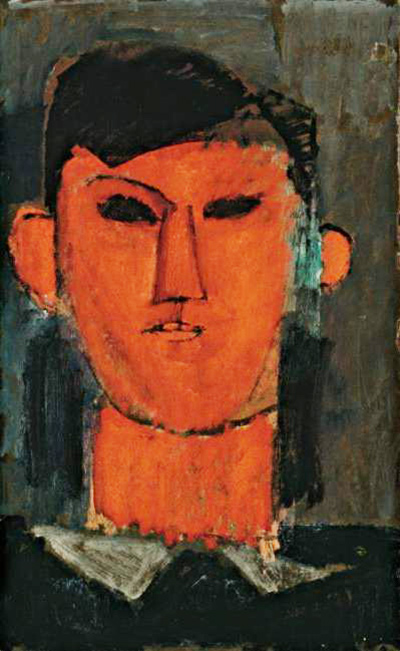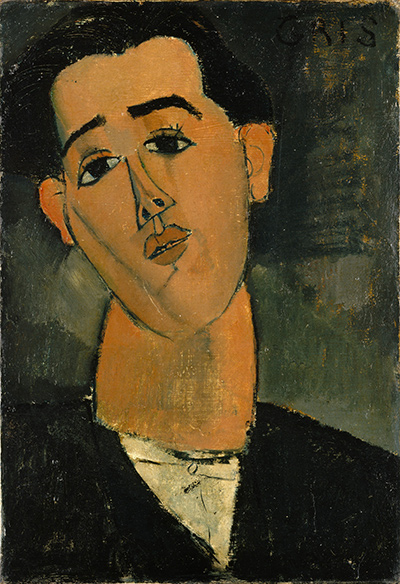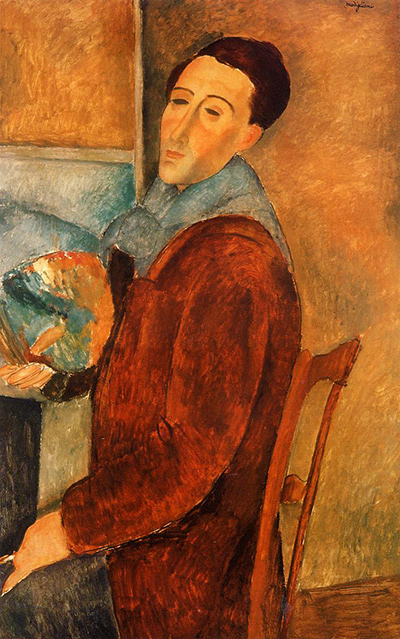 Modigliani paintings come from the career of famous Italian painter Amedeo Modigliani and this website is devoted to the paintings of this fine artist. You can find below a great collection of his 25 most art works and there is also detailed information on Amedeo Modigliani himself. The artist also produced many impressive sculptures which themselves received art academic respect but this website concentrates solely on his work with oil on canvas, which remains what he is best known for. Amedeo Modigliani was best known for his nude portraits which he created in his own painting style that was quite unique and helped to immediately set his career out from all others at that time. The career of Modigliani started to create interest around the start of the 20th century, but sadly the artist's life was over soon after and his career ultimately cut short. Despite this his years as an artist were highly productive and as such there is still plenty of work to enjoy in this website.
Modigliani paintings typically were figurative and his style is generally classified loosely as Modern. One element of this involved elongated features amongst his portraits which invariably were women, with several featuring frequently as he started to build relationships with his favoured models. This is a frequent scenario for many famous portrait painters and in the case of Modigliani there was the added dimension that many were portrayed nude. Modigliani was an Italian who found a home for his unusual and highly contemporary painting style in the European art melting pot that was Paris. It was here that similarly creative artists who preferred to live on the edge of society could mix freely and inspire each other with new ideas and influences. It was here that the artist eventually died having fought against alcohol and drug problems which resulted from his poor living conditions plus the unstable mind which he had always struggled with.
Jeanne Hebuterne can be seen above in one of Modigliani's best portraits. Jeanne Hebuterne herself became well acquainted with the artist and she was to become the best known model of all those that he used. There were several works in which she featured, but this is probably the most impressive. The paintings of Amedeo Modigliani have grown in popularity in recent years, with his style becoming more readily accepted within the American and European art public. For this reason there are now many reproductions of his original paintings available to buy in many different art formats, with the most popular being framed giclee art prints, posters and stretched canvases. The links provided in this website offer you the chance to buy Modigliani reproductions from Art.com who are the leading international supplier of art products.
Nude paintings were very common for Modigliani, as shown by the likes of Beautiful Roman Girl, Reclining Nude, Seated Nude and Weiblicher Akt Nude. Amedeo was someone who was emotional and charming to many women who were attracted by his highly unusual character and strong desire for non-conformity. This was underlined by the relationships which he held with several women featured in his nude portrait paintings. Modigliani was a passionate artist who eventually set his emotions against traditional art teachings which he himself had ensured as a young painter. The artist decided that this was very much the wrong way to go and he would furiously tear down renaissance paintings from his own studio once he had come about this polarised new opinion. His fellow dislike of art academics also went hand in hand with this and the painter expelled huge amounts of energy in the continued disliking of these strong institutions.
Madame Van Muyden is one of the artist's better known portraits and features the typical approach used by the painter in all of his later portrait paintings where he combined elongated faces and limbs with a consistent colour scheme. The success now apportioned to the work of Modigliani has led to even the models that he used becoming study topics for academics who have become highly curious about his colourful life. Tuberculosis took over the life of the artist who resorted to drink and drugs in order to disguise the symptoms that otherwise would have given him away and led to Modigliani being subjected to poor reactions from others at a time when the disease had a strong foothold right across France. The side effects of such overuse of these led to his beahaviour becoming more and more extreme over the years that followed his initial contraction of the disease.
List of Famous Modigliani Paintings
Please see below for a summarised list of the best Amedeo Modigliani paintings that are featured throughout this website.
Gypsy Woman with Baby
Reclining Nude
Seated Nude
Standing Nude - Elvira
Woman with Red Hair
Portrait of Maude Abrantes
Madame Pompadour
Portrait of Jaques and Berthe Lipchitz
Red Nude
Jeanne Hébuterne in Red Shawl
Seated Nude
Dedie Hayden
Self-portrait