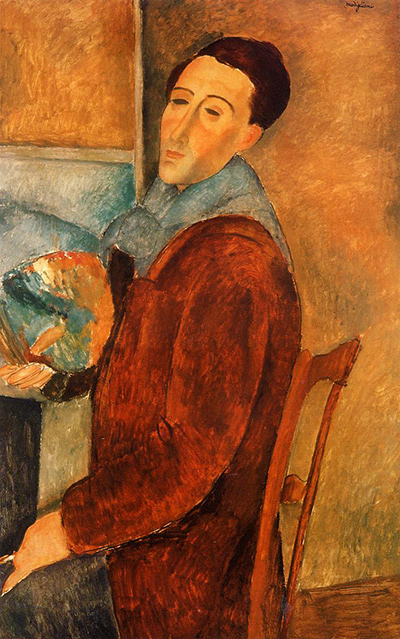 Buy Art Prints Now
from Amazon
* As an Amazon Associate, and partner with Google Adsense and Ezoic, I earn from qualifying purchases.
Amedeo Modigliani was an Italian painter in the early part of the 20th century whose life was tragically short. His work endures now though.
In 2015, one of his paintings sold for $170M. In his life, he gave away his paintings for food.
Modigliani absorbed many influences but a clear important source was Paul Cezanne. Modigliani produced portraits and nudes, but added an otherworldly quality often visible in the face. This made the work haunting and memorable.
He was known mainly for his painting of nudes but also for his sculpture. His tragedy was to die young, aged 34, from tubercular meningitis. His alcoholism probably contributed to his decline. His pregnant partner, Jeanne Hébuterne, committed suicide the day after he died.
In 1919 he produced his self-portrait, which is now held by Museum of Contemporary Art, São Paulo, Brazil. It is a striking and beautiful piece. I have the impression that it portrays an idealised version of the artist, who looks more haggard in photos from the time.
Some analysis suggests that Modigliani was finding peace & contentment by 1919. He does look a happy figure. His health deteriorated soon after this painting though. It was one of his last works. Due to this, there has even been speculation from medics that you can see tuberculosis take hold and this is reflected in the long face.
I am dubious. Other comparisons to African masks are understandable. Modigliani had previously been fascinated by their simplicity and form.
Some of the colouring owes its roots in his previous fauvist style and speculation about tuberculosis stems from his skin colour. To me though, it is coincidence. The boy in the painting 'The Boy' has a similar pallour. That subject may well have been stricken too, but it would be some coincidence.
He was little known outside Parisien Avant Garde circles. One of his pictures features Jean Cocteau. Fame came after his death. An exhibition in 1922 securing his legacy. Nowadays his art is revered across the world.