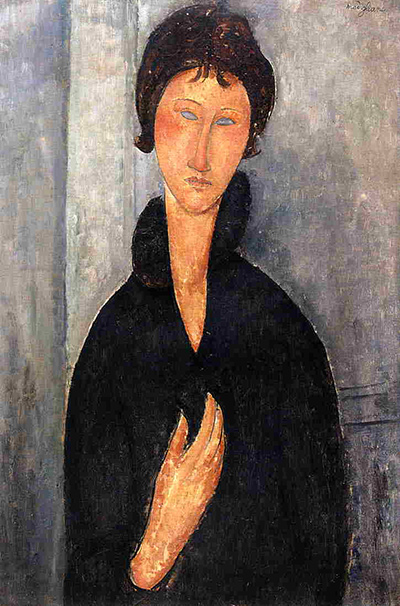 Buy Art Prints Now
from Amazon
* As an Amazon Associate, and partner with Google Adsense and Ezoic, I earn from qualifying purchases.
The first owner of Amadeo Modigliani's Woman With Blue Eyes was Dr. Maurice Girardin (1884-1951, who spent more than 40 years amassing a prized art collection.
Girardin was a dental surgeon whose prized collection included works included by Pablo Picasso, Georges Braques, Henri Matisse and others.
In fact, Girardin's art collecting helped give birth to the Paris Museum of Modern Art, and when this museum was famously broken into in 2010 by a sole masked intruder in the wee hours of the morning, two of the five paintings the thief made off with were Green Peas by Pablo Picasso, Pastoral by Henri Matisse, and The Woman With The Fan by Amedeo Modigliani.
As it were, the Italian Amadeo Modigliani did in fact run in the same circles as the most acclaimed avant garde artists upon moving to Paris from Venice in 1906. He even met Pablo Picasso. Modigliani was an admirer of Picasso's, and had even painted a portrait of the Spanish master and father of cubism in 1915.
Although it should be noted that upon their first meeting, in which Picasso showed up wearing his trademark workman's overalls, Mogdiliani allegedly remarked that even though he was a 'genius' there was no excuse for himn to dress like a commoner.
This was during the early days of Mogdiliani's stay in Paris when he still made an effort to dress dapper, owing to his semi-aristocratic roots in Italy. Of course, shortly thereafter Mogdiliani sank into alcoholism and drug addiction, and became somewhat of a 'bohemian vagabond prince'.
The model is placed before a background of various tones of blue and grey which define the volume of the frame behind the girl, whom occupies almost the entire vertical plane of the canvas.
As is often the case with Modigliani's expressionist portraits, it's hard to say who the particular model in "Woman With Blue Eyes" is with absolute certainty. Nonetheless, the uniformly blue eyes and auburn colored hair swept up in a bun have led most to believe that it's Jeanne Hebuterne.
Jeanne Hebuterne was the last - but certainly not the least - of Amedeo Modigliani's female companions and muses during his time in Paris. She committed suicide the day after he died due to complications from Tuberculosis and alcoholism. He was 36 and she was 22.