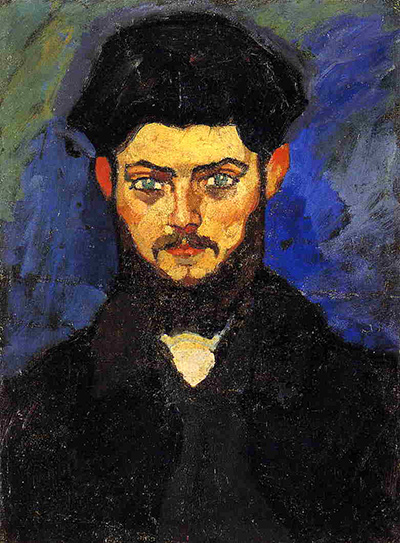 Buy Art Prints Now
from Amazon
* As an Amazon Associate, and partner with Google Adsense and Ezoic, I earn from qualifying purchases.
Maurice Drouard is a 1909 painting by Amedeo Modigliani. The painting style is expressionism, and the genre is a portrait.
The painting media is oil on canvas, and it measures 46 x 61 cm, and the original picture is currently in private collection. The painting depicts a man with a beard wearing a black suit.
Like many other paintings that Modigliani did, he did not use the curve technique in the Maurice Drouard painting. However, he applied other artistic features in the painting.
He applied his compelling studies in black color use and strong blue background that heightens the effect of Drouard's blue-eyed stare. The Maurice Drouard painting is a good display of Modigliani artistic skills.
The artist used the color combination to make his theme strong in the painting while making it attractive. The use of blue background in the painting matches with Drouard's blue-eyed stare.
As the painting style was expressionism, the artist was able to put all the features skilfully on the painting that makes the overall form professional.
The use of cool and dark colors in the painting gives it a rich texture and a strong theme. The artist painted the suit black to depict the person featured in the painting was from a wealthy background and educated.
He also painted the man with a big black beard that was common with men in those days.
Modigliani was inspired by the events that were happening during his time to come up with paintings such as Maurice Drouard. He used this painting to express his inner feelings and themes.
The viewer can easily read the artist message on the painting as the artist skillfully managed to create a facial expression in the Maurice Drouard painting. The painting depicts the man with a serious face expression showing he was facing tough times or was in the process of accomplishing a serious business.
Modigliani also used culture aspects outside Europe to put the painting together. He was particularly fond of African carving, and he applied these techniques in the Modigliani painting. He was also fond of using black color on his painting which helped to make his theme stronger as it is depicted in the Modigliani painting. The artist was also very calculating in using colors and was careful not to over decorate the painting as it could have lost its meaning.