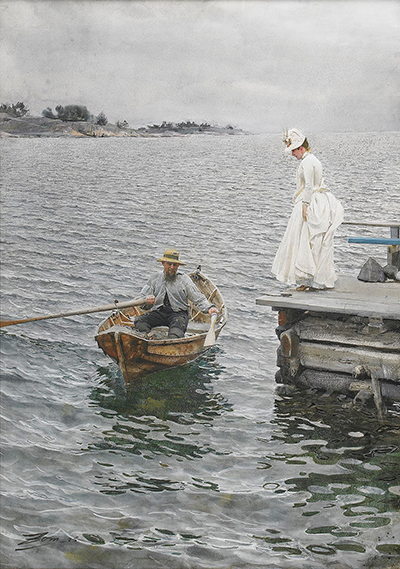 Buy Art Prints Now
from Amazon
* As an Amazon Associate, and partner with Google Adsense and Ezoic, I earn from qualifying purchases.
The charming scenes of life in 19th century Sweden have made Anders Zorn's paintings particularly popular as fine art print reproductions.
This was an artist who loved his country and also adored the people living in it. He captured snapshots of their lives in all manner of different scenarios, including local dance and young women bathing in the natural outdoors. It was enchanting to learn more about life in Sweden at this time through the visual descriptions provided by an artist who worked predominantly in a style that combined elements of Impressionism and Realism.
Indeed, fans of his work might also consider Joaquin Sorolla prints, with the Spaniard essentially producing similar work within the South European environment.
Wide Oeuvre
Zorn's career has not been as well researched as other more famous names and so the occasional artwork will appear that you had never seen before. Additionally, some of his work in other mediums has also been relatively ignored until recently and we are not starting to understand more about his etchings, drawings and sculptures.
He is one of a number of respected artists who fell out of favour for many years after his death, before then receiving a greater focus in recent years. There is a greater acceptance of different styles today, and artists who worked purely for the beauty of their creations are now accepted for the qualities that they brought to the art world.
This artist's work is best reproduced on high quality printing materials and also framed, where budgets allow. This will protect your print in the long term and also perhaps allow the artwork to avoid as much impact from light, depending on where you hang it. You maybe slightly restricted in which artwork to choose because not all of Zorn's paintings have been digitally recorded particularly well.
Widely Distributed Artworks
Some have remained in private collections are remain hard to access, hence the lack of a decent, high resolution reproduction of them. Zorn was an artist who was all about the detail, and so without that within your poster, it would lose a lot of the qualities of the artist. It is also important to choose a reputable company with a history in delivering high quality products, so that you can be confident in what you will receive, particularly if you are ordering from abroad.
One might add a small card between the print and its frame in order to allow the two to stay slightly separate. That enables the original artwork to attract your attention and not to be merged into anything else - you can appreciate the work of Anders Zorn as he initially intended. You might even consider ordering a print in the original painting's size so that you can pretend that you have the original - it may also help you to understand the composition better and also consider why he chose these particular dimensions for this work.
Difficulties in Replicating Zorn's Incredible Detail
In some cases, the original may simply too large to realistically requests a reproduction, as the reproduction would not be in high enough a resolution to be able to be stretched to that size. Alternatively, you might order several smaller pieces and put them together in an attractive arrangement on the wall - this is a popular technique at the moment for decorating one's home.
You may be unusure as to which artwork to pick from the artist's career. We have featured all of his best work within this website, but we have included below some of the most popular ones to perhaps prick your interest and also to give you an idea of the types of genres and styles in which he was involved. The copyright on his work was removed many years ago, because of the number of years that have passed since his passing.
This will help to keep prices down and also allows more companies to offer a selection of his prints as they will not need to seek out the copyright permissions to do so. A number of retailers are starting to see a rising interest in the work of artists from the 19th century and so will be further encouraged to add the likes of Zorn into their online offerings.
Most Popular Anders Zorn Art Print Reproductions