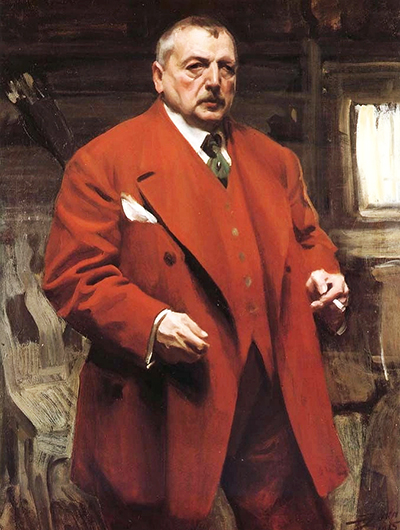 Buy Art Prints Now
from Amazon
* As an Amazon Associate, and partner with Google Adsense and Ezoic, I earn from qualifying purchases.
The self-proclaimed king of Swedish art, Anders Zorn rose to prominence during his own lifetime to become one of the most famous artists in the world.
Here we examine his legacy and also tackle each of the mediums in which he was involved, one by one.
This larger-than-life character, from Mora in central Sweden, rose from impoverished beginnings in a particularly remote part of Northern Europe to become a household name across the whole continent, as well as in the US too. As he strengthened his artistic reputation a number of high profile portraits would flood in, with notable names coming under his brush including The King of Sweden, King Oscar II, William Howard Taft and also Queen Sophia.
In truth, however, the paintings that most of the public hold dearest would be his scenes of everyday life, such as Summer Fun (Sommarnöje) and Midsummer Dance. These were charming pieces that also told the story of life in Sweden during the late 19th century, when few other artists of note were doing the same. See also quotes here.
One can argue that Zorn's upbringing forced him to learn to be independent, with his father never having been a part of his life. His mother took good care of him, with help from her parents, and they would enjoy a lasting bond throughout his life. As his career developed he would travel frequently, and had soon left behind his simple rural roots, developing a burning ambition to make the most of his early promise.
He certainly didn't lack confidence, but there was also lots to work with as discovered by some of his fellow students who first came across his work when developing in art college. Most significantly, Zorn studied from 1875 to 1880 at the Royal Swedish Academy of Arts in Stockholm and this was to prove an important stage in his path to prominence.
Transition from watercolours to oils
Zorn was originally a watercolour painter before making the switch to oils. This allowed him to become more of a mainstream artist, as the latter was the tool of choice for most significant names during the late 19th century. He was a talented draughtsman, too, and would also have a successful spell within the challenging medium of etching as well. He would often tackle individual projects or commissions with an initial sketch or etching before then working on the multi-layered oil version.
This helped him to plan the piece for which he would be paid, considering the main elements of each composition before commencing the final artwork. Failure to plan appropriately would leave a painter having to make amendments directly on the canvas itself, as Chardin was often criticised for, and this proved incredibly tiresome and emotionally draining. Zorn, in avoiding this common pitfall, was also able to increase his output of work too.
Regular Travels
A further interesting aspect of this artist's oeuvre are the locations and influences found within them. The variety is initially dominated with the Swedish countryside, as you would expect, but then there are all manner of other regions including Madrid, Algiers, Venice, London and several US cities. He also lived in Paris for several years and produced some inspiring works in this famous art city as well. He appeared to become more and more motivated and ambitious as he got older, seeking new avenues of influences wherever possible.
These frequent journeys also had the additional benefit of building connections for future commissions, ensuring that he eventually became a particularly wealthy individual who was in great demand for those looking to have a portrait painted of themselves or a loved one. Once an artist could count royalty and politicians within his client base, then he would be considered worthy of anyone else.
Encouraged by his cultured wife, Emma, they continued to travel for several years, building the family's wealth and fame as they went. Eventually, they decided to return to live in Sweden, not far from where the artist himself grew up. They purchased a cottage and set about expanding and upgrading it in order to better serve their needs. Zorn also started to spend some of his new-found wealth of artworks from other artists and would hang them within their enlarged home.
Growing Art Collection
He counted a number of notable Swedish artists within his collection, as well as some by the Dutch master, Rembrandt, who was someone that had inspired him all his life. This generous couple decided to have all of their works passed onto the state upon their deaths, and may of them are now a part of permanent displays in some of the region's major art museums and galleries.
The realistic depictions produced by Anders Zorn met their match with a number of similar artists within Europe and the US. Whilst they all lost the focus of academics soon after their careers, there has been a growing interest in them in more recent generations. Some at the time considered them to be producing art for purely its aesthetic value, and that no symbolic messages were present.
This is undeniably true, but modern tastes are not as judgemental over what art should or shouldn't be. One can appreciate the technical brilliance of artists such as Zorn, Sargent, Sorolla and Whistler these days, purely as it was intended and without a need for any additional layers of meaning or expression. The same can also be said for the key members of the Pre-Raphaelite Brotherhood in the UK, too, where a love of Victorian art has continued to grow within recent years.
Connection to French Impressionism
The impressionists in France moved art towards a more expressive style, and this became the new preferred, fashionable approach that academics would encourage and promote. They captured scenes around France, both in the countryside and within the larger cities themselves and liked to add their own artistic flair beyond just recreating photo-realistic reproductions. Monet, of course, spearheaded this movement, with other notable contributions from the likes of Bazille, Caillebotte, Morisot, Cassatt and Pissarro.
They varied in terms of their expressiveness, but the collective as a whole was highly regarded by academics, despite being initially rejected by the establishment after a number of early exhibitions. It also reminds us as to how impressive it was for Zorn to achieve the success that he did without being part of a larger group of artists, and having to do it all on his own.
There was a similar phase in the old USSR with an abundance of skilled artists in the Realism movement, including Ilya Repin who produced some extraordinary insights into 19th century lives in this region. He, similar to Zorn, combined these detailed compositions of everyday life with a number of significant portraits which helped to finance his life and career.
Artists such as these have embraced different genres as an opportunity to develop their skills, with light and colour always the most significant consideration, whatever the particular content of each artwork. Speaking of Repin, his most famous paintings would probably be considered as Barge Haulers on the Volga and Religious Procession in Kursk Province. Related artists include Valentin Serov, Vasily Surikov and Ivan Kramskoi. There was also obviously a severe political turbulence within this region that adds an extra element of interest to the oeuvre produced by this group.