It is fair to say that Andrea del Verrocchio's sculptures have drawn particular interest from art historians because of his connection to several other huge Renaissance names - including Leonardo da Vinci and Sandro Botticelli. His studio was a hive of activity and fruitful toil, with many great artists coming under his tutorship over a period of several decades.
Sculpture was a particularly well respected and financed art form during the Renaissance, used to adorn the most beautiful buildings. In order to impress other states in this cultured region, local rulers would need to combine the finest of both art forms in order to ensure their cities would take your breath away. Essentially, it was the chest beating of the Renaissance age, combined with some of the finest artists ever to have lived.
As you will learn from this website, Andrea del Verrocchio was a versatile and highly skilled artist who produced impressive work in several mediums but it was sculpture that was always the discipline that was considered by art historians as to have been his strongest of all. It is therefore highly unfortunate that many of his sculptures have not survived to the present day. It is common for art from this period to have been damaged or lost due to the poor conditions in which some of them had been kept.
The city of Florence benefitted greatily from the work of Verrocchio whose contributions added beauty in many of its most famous landmarks. The artist spent most of his life here and was commissioned by local donors in most cases. It was only late in his career that he moved to Venice and continued his legacy here. His impact in these two cities was studied by other, later, members of the Renaissance. He was also a highly talented goldsmith and this aspect of his career is often overlooked.
Several of Andrea del Verrocchio's sculptures were commissioned by local Florentine committees, having awarded him the work after holding high profile competitions. This was a frequent method of dishing out some of the most important projects within the city during the Renaissance, with artists willing to invest a lot of time and money on producing study pieces or example artworks that helped to outline what they would produce were they to win. For sculptures Verrocchio would often create wax models of his planned design.
In designing the Tomb of Piero and Giovanni de Medici, Andrea del Verrocchio was finally able to return his gratitude to these two individuals who had done so much for his career. It was their involvement that pushed his reputation to new levels, constantly choosing him over other notable Florentines for a stream of prestigious projects. They were also wealthy enough to be able to support him with anything he needed, be it wages for assistants, money for expensive materials and so on.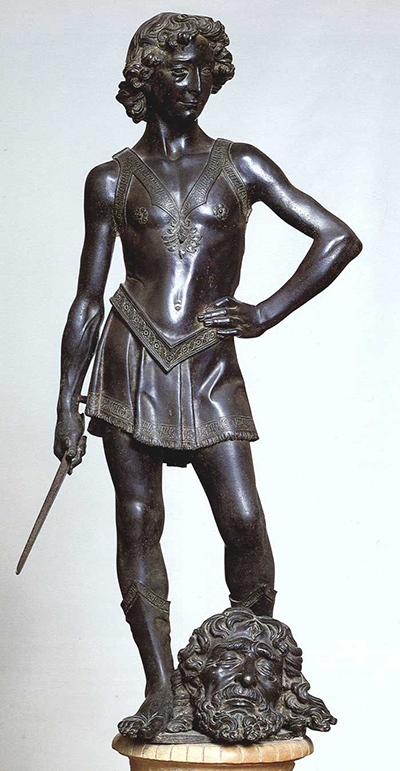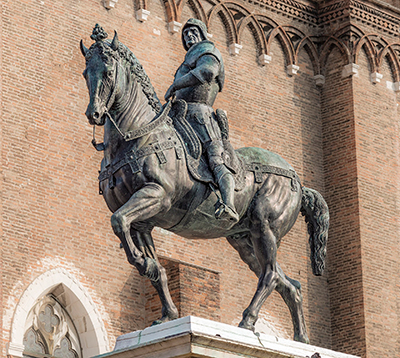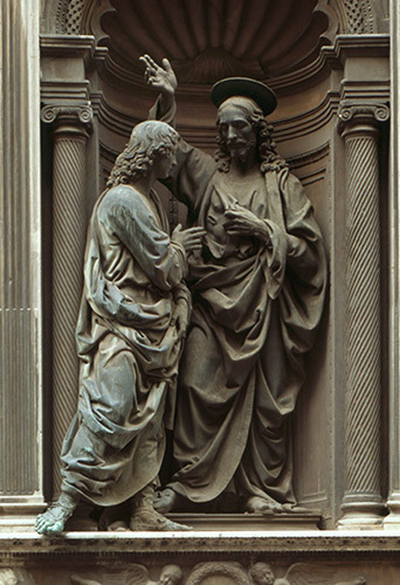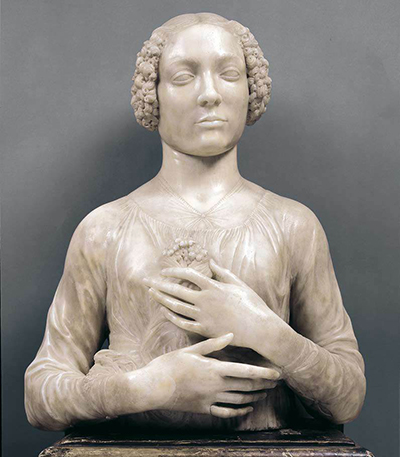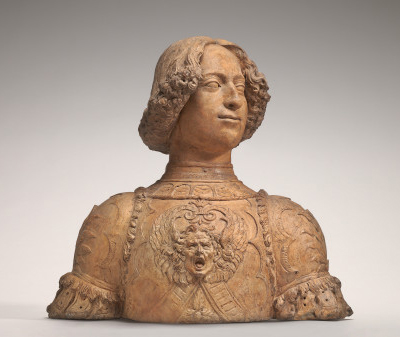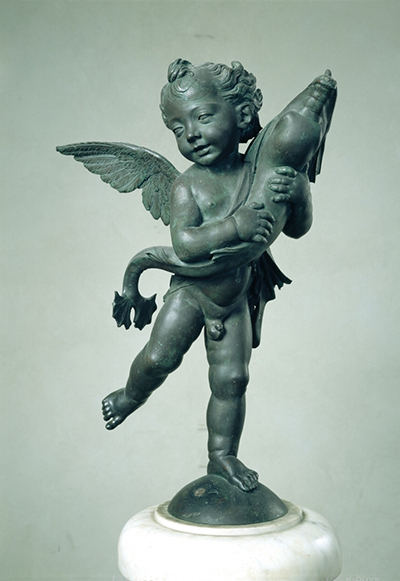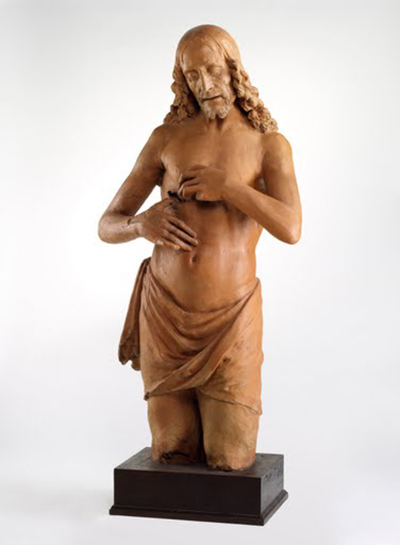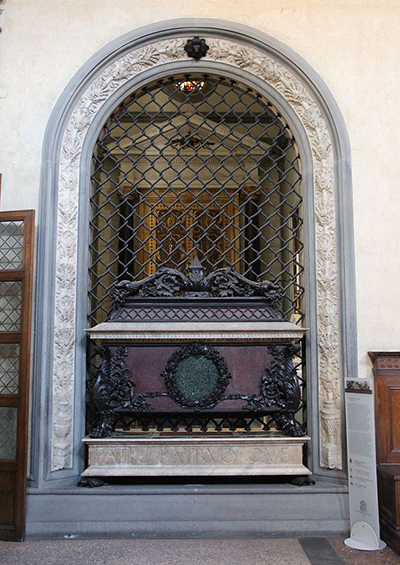 Donatello sculptures are considered by many to be the work of genius and his passing was crucial to the rise of Andrea del Verrocchio who now had a clear run at becoming the new favourite of the Medici family. Donatello himself had been trained by another notable artist, Lorenzo Ghiberti who himself had produced the North Doors and the Gates of Paradise for the Florence Baptistery.
The careers of these three artists, plus architect Brunelleschi, were all intertwined in so many projects. On occasions they would compete against each other to win prestigious commissions and at other times they would be adapting or adding to an existing work that had already been created by one of the others. They were highly competitive with each other but would also sometimes travel together in order to discover art in other parts of the country. See also the earlier architecture of Giotto.
After the Renaissance came the Baroque art movement that swept across Europe in a similar way. Gian Lorenzo Bernini sculptures are perhaps the finest examples of sculpture from this period. Bernini took many of the developments that had occurred in the Renaissance and added his own flair and creative ideas. This sculptor was also willing to try new materials and experiment with existing ones in new ways. He produced many shoulder length statues and also some highly ornate installations.
And finally, surely the finest of them all put together world famous statues such as Pieta and David. Michelangelo sculptures are amongst the finest items of art ever produced anywhere in the world and to consider he also produced the frescoes within the Sistine Chapel, it truly was a remarkable career whose only equal is that of Leonardo da Vinci's. His output within the medium of sculpture was also remarkable.