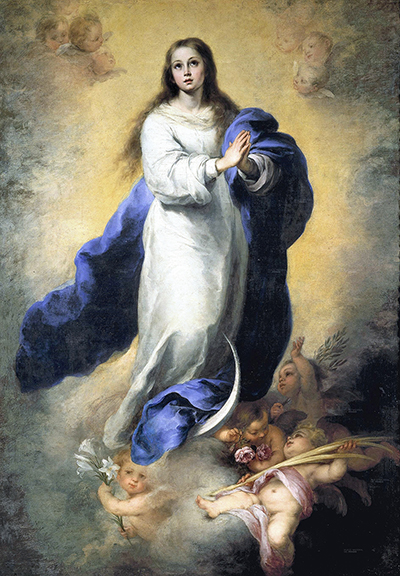 Buy Art Prints Now
from Amazon
* As an Amazon Associate, and partner with Google Adsense and Ezoic, I earn from qualifying purchases.
This delightful artwork was completed by Bartolomé Esteban Murillo in around 1660 - 1665. The Immaculate Conception of El Escorial remains one of the artist's most accomplished paintings and can be found today at the Prado Museum in Madrid, Spain.
Many of the unique characteristics of Murillo's career can be found within this single artwork. We firstly see the religious themes which helped the artist to build up a following in his native Spain, though he himself would make use of a greater use of sensitivity than most others had done up to that point. The work also makes use of two particularly dominant colours, with tones of blue and a golden yellow striking down the centre of the canvas. For this artwork Murillo chose to allow the main figure to really come to the fore, with the supporting cherubs being noticeably smaller and assigned to dark corners of the painting. The final painting is just over two metres tall, making it a large oil painting, but not particularly so considering the fashions of the day with regards religious art. Murillo worked entirely in oils for this piece, as he would for the whole of his career - North European influences around the time of the Renaissance had left this legacy all across the continent.
The artist would produce several other versions of The Immaculate Conception within his career and this topic seemed popular with his patrons. Murillo was always looking to adapt his approach to suit each patron and was open to criticism, despite being so exceptionally talented. His polite, well mannered demeanor was perhaps rare for such a respected artist and his personality helped him to attract and retain patrons across Europe. His other famous interpretation of this theme was titled The Immaculate Conception of Los Venerables and the two can be visually compared in order to learn more about how the artist adapted the content from one piece to the other. He would also find favour with patrons in Northern Europe and Italy but they tended to prefer alternative content and so he would switch between the two, depending on who he was trying to impress at the time. It was the artist's visits to galleries in Seville and Madrid which helped educate him about the differing tastes across the North and South of Europe, and he would also pull in ideas from a good variety of artists as his style developed.
Content found within The Immaculate Conception of El Escorial
There have been many other artists who have taken on this topic within their own careers, and Murillo would call upon some of those ideas within his interpretations. The Virgin is pictured in white, representing purity, whilst she holds a large blue cloth over her left arm. This colour combination was used in previous decades by other artists and helped viewers to immediately identify the main focal point of the piece. She holds her hands together just in front of her chest and looks up to the heavens, with her facial expression also suggesting that she is in need of help. Besides the white outfit, it is also believed that the crescent moon which stands behind the Virgin is also traditionally a sign of purity and so its inclusion here is not merely for aesthetic value, even though the tones of yellow against the blue work beautifully. Murillo was therefore able to incorporate various symbolic items in this painting in such a subtle, fluid manner that one might not even be aware of their actual meaning.