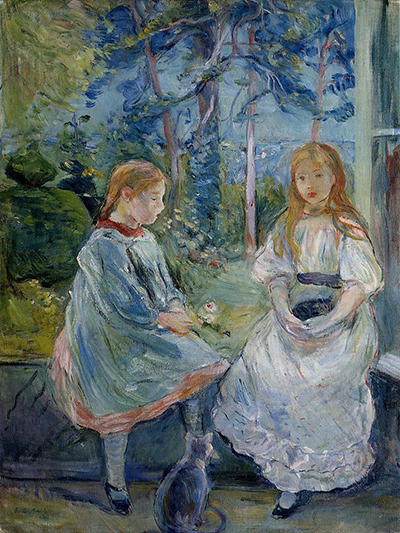 Buy Art Prints Now
from Amazon
* As an Amazon Associate, and partner with Google Adsense and Ezoic, I earn from qualifying purchases.
Young Girls at the Window is a Berthe Morisot painting from 1892. It today resides in the Daniel Malingue Gallery in Paris, France.
The painting, from 1892, features two young girls sat on a garden wall. They are joined by a friendly grey cat who has its back towards the artist. One of the girls faces us directly, and appears to be comfortable with the attention, whilst the other sits more side-on and seems to be deep in thought. Behind them we see a garden leading through all the way to the back of the painting, with some open countryside on view just behind the boundaries of the property. To the right we see a small section of their family home, with a tall window by which one of the girls sits. They appear to be of middle or upper class background, with pretty outfits and a very smart appearance. A turquoise sky shows through from between the trees at the bottom of their garden and similar tones continue into the girl's clothing.
Morisot loved the use of gardens for her work because it combined the accessible nature of home life, but also with the addition of nature. She regularly used parks as well, but these were much harder to manage whilst working. To use a family home would also allow her subjects to be more relaxed whilst sitting for her, and sometimes features would appear that helped to tell even more of their story, such as the cat in this example. Morisot and Cassatt were both heavily influenced by their gender, just as were their male counterparts, and this ensured that they brought something different to the Impressionist movement. Their contribution was particularly well received, with Cassatt gifting us the likes of The Tea, Lilacs in a Window and Woman with a Pearl Necklace in a Loge.
Berthe regularly featured young girls within her work and loved the beauty and innocence that they brought to the canvas. She would often sit and sketch, before turning some of these items into fully completed paintings at a later date. Portraiture would certainly be her main focus, and you will not find the elderly too often with her work - youthfulness clearly radiates across many of her paintings and children would also have been around and available at the time, be it of her own family or members of her friends' families. This focus gives a freshness and innocence to many of her artworks which can lift one's mood and provide a positive feeling from such sweet girls who have their whole life ahead of them.