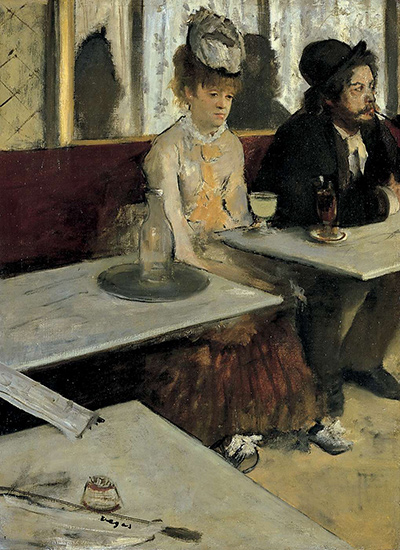 Buy Art Prints Now
from Amazon
* As an Amazon Associate, and partner with Google Adsense and Ezoic, I earn from qualifying purchases.
Absinthe Drinker is a classic oil painting by Edgar Degas who was a stylish painter who fitted somewhere between impressionism and realism.
This website brings you great detail on the Absinthe Drinker painting and also discusses more on Degas' career as a whole, including his ballerina ballet dancer paintings which were also well respected.
The original name of this painting was L'Absinthe, but has been translated as both Absinthe Drinker and also Glass of Absinthe.
Absinthe is a very strong alcoholic drink which was much more readily available during the late 19th and early 20th century at a time when artists like Edgar Degas were stimulating the art world with their impressionist methods which were predominantly based in France at the time but later spread right across the world thanks to the influence of this important art movement which was amongst the most influential of all.
Those interested in finding more Degas paintings can find a large gallery at Degaspaintings.org.
Degas Absinthe was perhaps the most famous from this career of this talented artist but sits somewhat separated from the common themes which were seen in many of his other paintings.
Degas' career is best remembered for his use of horse racing and ballerina dancers across several long series of paintings which became the signature paintings with which he is best remembered.
L'Absinthe had it's own qualities which helped to set it aside as a fine art work.
The original was created by Degas in 1876 and is now stored in the permanent collection of the Mussee d'Orsay in Paris which itself features an incredible selection of major art works from the past few centuries.
Besides those aready mentioned here, the painting also became known as A sketch of a French Cafe and Figures at Cafe, though finally most have settled with l'Absinthe.
The new title helps one remember exactly this painting from the collection produced by this exceptional French artist.
Edgar Degas Absinthe Drinker features a female drinking quietly in the Cafe de la Nouvelle-Athenes in Paris which became very well known in the French capital after the release of this painting in 1876.
By that time Edgar Degas was an established artist and there was always a lot of interest in all of his latest works, and l'Absinthe was no different in this regard.
Actress Ellen Andree and painter Marcelin Desboutin are the two characters within this painting.
The precise meaning of this painting was intended to depict the social differences which existed with Paris during the period of Degas's career and the Absinthe represents the woman's own struggles at that time, with Degas carefully selecting these two individuals to serve as models for his painting.
Their own physical characteristics and chosen outfits clearly suited the exact look that Degas wanted.
L'Absinthe painting stands prominently within the history of French art and is the best known of all the artist's paintings, with his significant genres of horse racing and ballerinas only known more generally rather than specific works.
Degas is a key member of the French impressionist movement which took in some artists from abroad but was predominantly French-led.
Edgar Degas was also famous for painting ballet dancers and ballerinas within his career and there were many excellent examples of this genre.
Degas ballet dancers are included within hundreds of oil paintings and also study sketches, each featuring a style somewhere between impressionism and realism which the artist spent many years perfecting.
Edgar Degas ballerinas were carefully selected by the artist to achieve exactly the seen which he was looking for in every art work.
Typically Degas ballerinas were added in groups which together offered the painter more opportunity to add excitement and interest to his paintings.
The artist would generally mix up different coloured outfits in order to offer a beautiful array of colour across the painting.
List of Famous Edgar Degas Paintings
Look below for a substantial list of the best Edgar Degas paintings that are featured throughout this website.
Absinthe
Ballet Rehearsal
Dancer with a Bouquet of Flowers (Star of the Ballet)
Stage Rehearsal
Dancers at The Bar
The Dance Class (La Classe de Danse)
Ballet Rehearsal on Stage
Blue Dancers
Dance Class
Absinthe Drinker