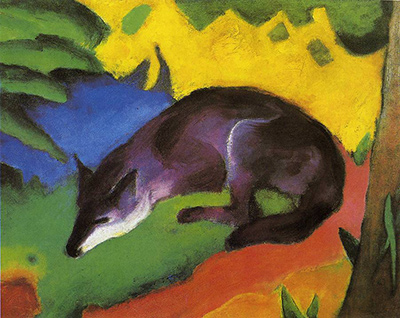 Buy Art Prints Now
from Amazon
* As an Amazon Associate, and partner with Google Adsense and Ezoic, I earn from qualifying purchases.
Blue Fox is an oil on canvas painting by the German Expressionist painter and print maker, Franz Marc
An important figure in German Expressionist movement, Marc founded the Blue Rider movement along with Wassily Kandinsky in Munich in 1911. The group also included the artist Paul Klee.
Dating from 1911, the painting is one of Marc's earlier animal works featuring bright contrasting primary colours and a reclining fox in blue hues. The work was composed at a studio in Bonn as the artist journeyed home to Bavaria from England. Animals are the subject matter for much of Marc's work, as he felt that they had a special quality of innocence.
Foxes in particular feature in a number of his works, including the later period Foxes, painted in 1913, which is much more abstract and cubist in style. The brightly coloured abstract background of Blue Fox is in keeping with Marc's symbolic use of colour and is common to the Blue Rider group of artists.
The son of a landscape painter, Marc was born in Munich in 1888 in what was then the Kingdom of Bavaria. Drafted into the German military as a cavalryman in 1914, Marc was killed in combat during the Battle of Verdun in 1916. Shortly prior to his death, a letter exempting him from combat had been issued by the government on account of his status as an artist of importance; however, the letter only reached the front shortly after he had been killed by shrapnel.
During the 1930s, more than a hundred of Marc's later works were denounced by the National Socialists as "degenerate art" and removed from museums throughout Germany.
Today, Marc's work hangs in major galleries around the world including the Museum of Modern Art in New York City, the San Francisco Museum of Modern Art, and the State Gallery of Modern Art in Munich.