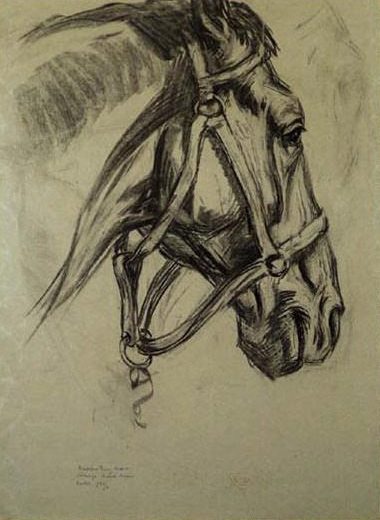 Buy Art Prints Now
from Amazon
* As an Amazon Associate, and partner with Google Adsense and Ezoic, I earn from qualifying purchases.
The image displayed here is Franz Marc's Head of the Horse. One of his earliest pieces. He created it in 1906, and it is widely believed to be his fourth piece after finishing his study at the Munich Academy of fine arts.
This piece is a sketch in the realism style, which dominated the art scene in the late 1800's. It was an artistic study into the anatomy of the right flank of a horse's head, likely one of his family's own horses.
This study was drawn long before he experimented with the expressionist style. This means it is an example of the artist in his more formative years. Before he experimented enough to find his own style, voice and expression.
This piece was one of many found in the home of Cornelius Gurlitt in 2011. His father Hildebrand having collected Modernist art that was called "degenerate" (entarteter Künstler) by the Nazi party in Germany.
While Franz portrayed domesticated animals and nature very much through his artistic career, this is one of his lesser explored works. This is for a number of reasons, firstly because it's not an example of what he became widely renowned for - his expressionist interpretations of nature and animals.
Another reason is because the work was created during his formative years, which people tend to place less emphasis on.
We believe it is a 'hidden gem' of a piece. You can see the skill that runs through the lines of this sketch and the tell-tale signs of what a great artist he would flourish into. The contouring of the head shows what a good eye he had, and you can start to see his emotion come through the painting.
Franz was driven by showing what the effects of humanity's decisions had forced upon nature and the animals that dwell around us and you can very much see this in the horse's pained, almost defeated expression.