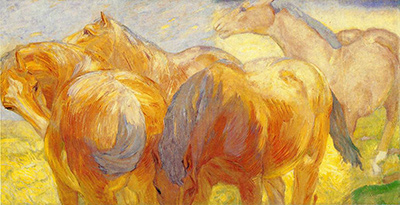 Buy Art Prints Now
from Amazon
* As an Amazon Associate, and partner with Google Adsense and Ezoic, I earn from qualifying purchases.
Large Lenggries horses is an oil on canvas painting from 1908 by the Munich born artist, Franz Marc
Although Marc would later be regarded as one of the most important exponents of German Expressionism, this earlier work is composed in a post impressionistic style which the artist developed during time spent in Paris between 1903 and 1907.
During his years in Paris, Marc spent time studying the old masters and visiting galleries and would become strongly influenced by the artists Vincent Van Gogh and Paul Gauguin.
Marc was also influenced by the Swiss artist Jean-Bloe Niestlé, whom he met in 1905 in Munich and whose paintings of animals encouraged Marc to try to capture the essence of animals in his paintings rather than just representing them in an anatomically accurate way.
This, along with his symbolic use of colour, is evident in the painting as Marc moves away from a purely naturalistic representation in order to capture the spirit of the horses. For Marc, the yellow and orange tones of the painting symbolised the cheerful, gentle and sensual aspects of the feminine principal.
While horses feature in many of Marc's paintings, his later representations would become more abstract and more expressionist, featuring elements of cubism, futurism and orphism.
The painting was composed in 1908 near the foothills of the Bavarian Alps in the village of Lenggries where Marc and his second wife, Maria Franck, spent the summer painting. The landscape of this part of Upper Bavaria was important to Marc and he coined the term "blue country" to describe it. It is in this region, in the village of Kochel am See, where the Franz Marc museum can be found. Marc made the picturesque Bavarian village his home during the latter part of his life.