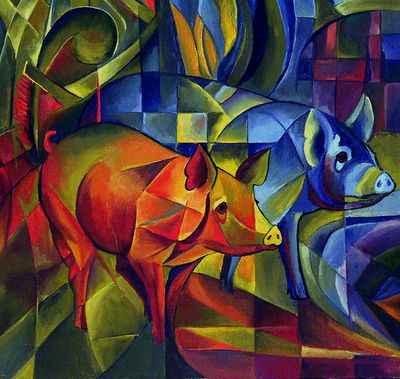 Buy Art Prints Now
from Amazon
* As an Amazon Associate, and partner with Google Adsense and Ezoic, I earn from qualifying purchases.
Franz Marc is one of the most influential names in the world of German Expressionism, and Pigs is one of the most highly regarded examples of his work
Born in 1880 in Munich, Franz Marc came from an artistic family - his father was a professional artist. As a result, studying at the Munich Academy of Fine Arts was preparing him to join the 'family business'.
He studied under some of the most illustrious names in German Art at the time, including Gabriel Von Hacki and Wilhelm Von Diez.
Marc spent time in Paris between 1903 and 1907. The affinity he discovered with the works on Vincent Van Gogh during this time had a great influence on his work.
By 1911 he founded Der Blaue Reiter (The Blue Rider). This group of artists, bound by rejection of the Munich New Artist's Association, included Marc, Gabriele Munter, August Macke and Marianne Von Werefkin.
Rebelling against the traditions and restrictions of the Artist's Association, they were free to experiment with themes and techniques they may not otherwise have considered.
It was during this time that Marc produced his most notable work, especially a collection of animal prints, using lithography and woodcuts. Pigs (from around 1912) is one of the most famous, due to its dramatic use of colour and shapes, to depict what would be a fairly everyday sight in much of rural Germany.
Franz Marc was killed during World War One, and his work was suppressed by the Nazis. As a result reproductions of his most famous works - such as Pigs - are highly sought after.
Reproductions of his work are a great way to celebrate one of Germany's most influential artistic minds.