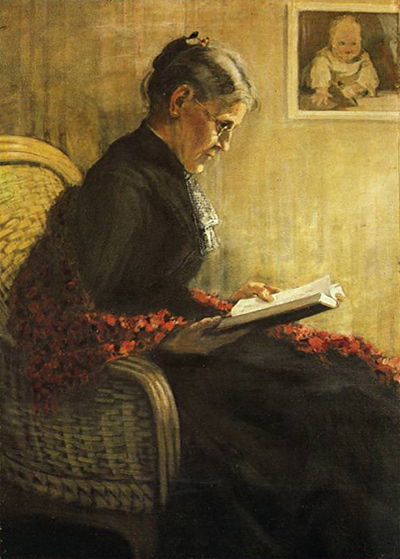 Buy Art Prints Now
from Amazon
* As an Amazon Associate, and partner with Google Adsense and Ezoic, I earn from qualifying purchases.
This is one of Marc Franz' earliest well known paintings. Portrait of the artist's Mother was created in 1902 just two years after Franz entered the Munich Academy of Art
It is a far cry from the colour symbolism and expressionism he become so well known for. It is however an excellent example of natural realism that was promoted vigorously at the academy during this time. The colours are dark and natural without feeling gloomy.
Although the month's expression appears seriously you can see a hint of a smile as she reads, and the portrait of the baby in the background gives it a much softer family feel.
The simplicity of this image speaks of a quiet respect shown by the artist to his mother. Although the muted tones and human imagery of this painting were soon dropped by Franz as his popularity and confidence grew. The spiritual mood of this image underpins a lot of his later work.
Mark Franz later went on to become one of the leading artists in the expressionism and back to nature movements of the 20th century and from 1907 onwards painted animals in nature exclusively which makes this image more of a rarity.
This image was painted with oil and canvas and stands at 98cm tall and 70cm wide, making it quite a substantial piece of art. It was painted in 1902 when Marc Franz was 22 years old and it is currently held at the Stadtische Galarie im Lanbachhaus – Munich Germany which is also the birth town of Franz Marc and a lot of his works can be found in museums around the area.