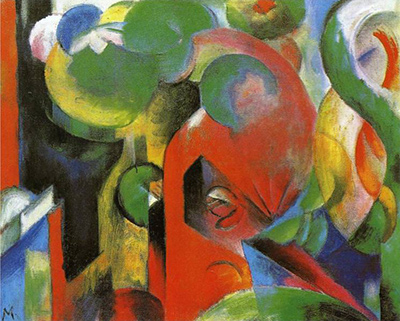 Buy Art Prints Now
from Amazon
* As an Amazon Associate, and partner with Google Adsense and Ezoic, I earn from qualifying purchases.
In 1912 Franz Marc and Wassily Kandisky edited Der Blaue Reiter Almanach (The Blue Rider Almanac).
The Blue Rider was an art collective which consisted of Kandisky and other like minded Russian immigrants as well as Franz Marc and other notable German born artists such as August Macke and Gabriele Munter.
All of the artists in the group were iconoclasts who rejected what they perceived as the overly regimented art scene in Germany. That being said, only Kandisky and Marc seemed to fully embrace purely abstract art.
Franz Marc painted Small Composition III in either 1913 and 1914, and the painting most definitely speaks to Marc's deep aesthetic preoccupations and obsessions at that time.
With these compositions and others, we can see that Marc relies upon the same class of futurism inspired forms that can be seen in his later animal themed canvases.
Small composition III is composed of spheres and compact cuboids that become transparent and are diluted at the edges in such a way that the different shapes become embedded with one another.
Always concerned with the connection between spirituality and art, and it was during these years that Marc notably proclaimed that "everything is connected with everything". This metaphysical monism is reflected in the interconnectedness of the visual elements in Small Composition III.
The vigorous prime colors and their combinations infuse the assembled visual structure with a sense of dynamism. Marc's forms are not autonomous in and of themselves; instead, they function as vehicles for expressing different psychic states.
Whereas in his earlier works Franz Marc venerated the animal form over the imperfection of man, this creative stance became even more emboldened in his abstract works.
It appears that only once he was able to free himself from the figurative form that Marc was able to truly leaven his art with the primordial character he appeared to be grasping at in his earlier works. Who knows where his art would have progressed from this point if it weren't for his untimely death in 1916.