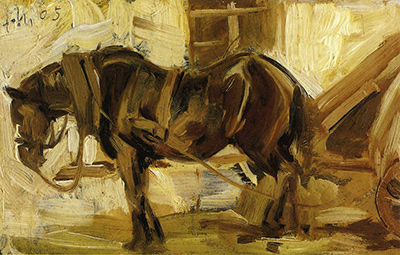 Buy Art Prints Now
from Amazon
* As an Amazon Associate, and partner with Google Adsense and Ezoic, I earn from qualifying purchases.
Small Horse Study, which was an oil painting done by Franz Marc in 1905, is a brilliant reminder of why Franz Marc will forever be remembered for his paintings of animals
Showing the how majestic the equine form can be, Marc painted the horse in it's natural form, bending down next to a cart rather than rigidly and proudly on show, like so many other painters that portray horses seem to want to do.
Born in the German city of Munich, when we were nearing the turn of the century, Franz Marc exploded onto the expressionist scene with his intensely bold paintings of animals.
During this time, he crafted a style that undoubtedly made his mark on the German expressionist movement, and he was even one of the founding members of Der Blaue Reiter, a society for German expressionist artists.
Through the expressionist medium of the painting, you can get a feel for Franz Marc's genuine appreciation and respect for his subjects. Looking at 'Small Horse Study', you can see the artists flair for using simple lines and bold stokes to tell the story, not only of the subjects, the animals he was painting, but his own.
His journey began with his Father, who was a landscape painter, and owing to him, his interest in art, he started out in the formal style that one would associate with traditional landscape painters. It wasn't until, in 1903, he discovered French impressionistic painting that he really started to experiment with the style.
Small horse study is probably one of the best examples of Franz Marc's 'finding his feet' with impressionism. Painted two years after he discovered the style, it is evident that he looks to celebrate impressionism and incorporate it into a broader message about himself as an artist.