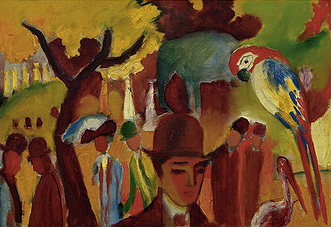 Buy Art Prints Now
from Amazon
* As an Amazon Associate, and partner with Google Adsense and Ezoic, I earn from qualifying purchases.
Marc painted in the era of Expressionism, which focused on emotion and usually expressed negative feelings towards society and a fear of a bleak future. This could explain why this particular painting is so somber
Franz Marc, a German artist, had a fascination with animals and their relationship to human domains, as is clear in his collection of paintings and in this particular painting of a zoological garden, or, zoo.
Marc is said to have found animals more beautiful and pure than humans, which could explain why his subjects are commonly animals.
He also found that animals expressed his feelings easily and were somewhat spiritual. While this painting is similar to others in his body of work, the way the subject is presented is different.
The style is much less abstract than other paintings in Marc's collection of work. It is also more somber as the main color is brown with the eye being drawn to the bright colors of the parrot, a blue-grey elephant and an almost camouflaged stork.
In this same era, zoos were developing and becoming more numerous. While Marc may have found a zoo exciting because it brought him close to a subject he loved so much, it also is an example of how humans can negatively affect other aspects of the world. Franz Marc may have found zoos morally wrong through taking animals from their homes and keeping them trapped in small enclosures.
The figures in this painting look bleak as they are hunched over. The main figure in the front also has an expression that seems more solemn than happy. Perhaps this figure is Franz Marc himself contemplating life while visiting a zoo and the painting a result of these reflections.