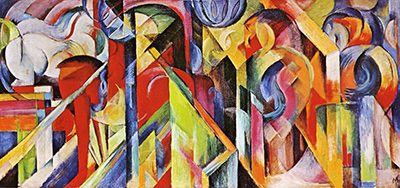 Buy Art Prints Now
from Amazon
* As an Amazon Associate, and partner with Google Adsense and Ezoic, I earn from qualifying purchases.
Stables (1913) was one of the last paintings completed by Franz Marc to feature horses
These animals had been among the artist's favourite subjects for many years, as he searched for ways in which to use the power of nature to represent emotional and spiritual feelings in his paintings.
In this he was influenced by early abstract painters such as the Russian, Wassily Kandinsky.
Marc's religious beliefs were somewhat complex, but generally revolved around pantheism. He felt that there was a natural godliness to animals that had disappeared from human beings long ago, and he sought to depict this in his works.
By the time he painted Stables, he had come to the conclusion that abstract forms would allow him to link the horses in the picture with nature as a whole, and even with the totality of existence.
The artist's earlier horse paintings had often seen the animals as being individuals, but in Stables the group of five is portrayed as entirely bound up with the piece's overall design.
By envisaging the scene as a unified whole, Marc blends the horses themselves and their stable to such a degree that there is little distinction between the two. The colours used - red, white and blue - nevertheless contrast quite strongly with the background.
By 1913, the Expressionism with which Marc had made his name was being increasingly influenced by artists like Robert Delaunay, as well as the emerging Futurist Movement.
This can be seen in the use of light and in the vivid, sloping lines of the horses' stalls, as well as the curved outlines of the animals themselves.
Stables, painted in oil on canvas, is part of the Founding Collection at the Guggenheim Museum in New York.