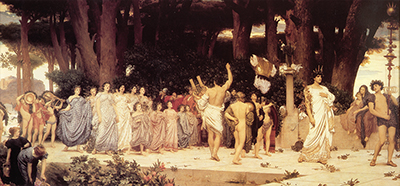 Buy Art Prints Now
from Amazon
* As an Amazon Associate, and partner with Google Adsense and Ezoic, I earn from qualifying purchases.
Daphnephoria is another fine contribution from British Victorian painter, Lord Frederic Leighton. It was completed in 1874-1876.
The title of this complex painting refers to a traditional Greek festival. The Daphnephoria himself would be a young laurel bearer, typically a boy. They would play a central role in proceedings. The subject would be dressed beautifully and followed around by a selection of young maidens in this symbolic event which served as a right of passage for the young man.
The original painting can now be found at the Lady Lever Gallery in Liverpool, an institution that holds one of the finest art collections in the North West of England. A visit here also offers work from other British artists such as William Holman Hunt and Edward Burne-Jones. Leighton, stylistically, fits closely with the respected members of the Pre-Raphaelite movement.
Academics consider this artwork to be of equal quality to many of the great French and German paintings from around this time, underlining how it displays Leighton's ability to conceive of beautiful scenes from classical times and also his clever ability in arranging a multitude of figures in a way that fits naturally.