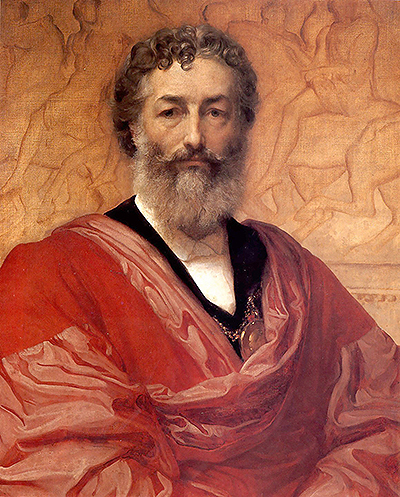 Buy Art Prints Now
from Amazon
* As an Amazon Associate, and partner with Google Adsense and Ezoic, I earn from qualifying purchases.
Frederic Leighton was a well-connected individual, helped by his skills as a linguist and also his well-educated background. He was known as a charming, handsome man with great confidence but also a willingness to learn from others, both home and abroad.
The selection of Leighton quotes found here help us to further understand the man behind the art. There is not a huge number available, though his interactions with other famous artists have provided us with some interesting coversations, often completed by letter rather than in person.
Famous Quotes by Lord Frederic Leighton
Frederic Leighton to James McNeill Whistler: "My dear Whistler, you leave your pictures in such a sketchy, unfinished state. Why don't you ever finish them?" James McNeill Whistler to Frederic Leighton: "My dear Leighton, why do you ever begin yours?"
My parents surrounded me with every facility to learn drawing, but, strongly discountenanced the idea of my being an artist unless I could be eminent in art.

From a letter, 1879
I do not believe that they who, in our time, have wedded their lives to art have clasped to their breasts a lovely but lifeless corpse.
Sincerity is the well-spring of all lasting achievement, and no good thing ever took root in untruth or self-deception work that does not spring from the heart has no roots, and will of certainty wither and perish.
The gathered experience of past ages is a precious heritage and not an irksome load; and nothing will fortify young artists better for the future, and free development, than the reverent and loving study of the past.
We have within us the faculty for a range of emotions of vast compass, of exquisite subtlety, and of irresistible force, to which Art and Art alone amongst human forms of expression has the key.
I am hand-in-glove with all my enemies the Pre-Raphaelites.
It's very good, Monsieur Manet, but don't you think that the outlines (of Manet's painting Le Skating) are not well enough defined and that the figures dance too much?

Comments to Edouard Manet on his Le Skating, Manet replied, "They're not dancing, they'e skating; but you're right, they do move and when people are moving, I can't freeze them on the canvas. As a matter of fact, sir, I have been told the outlines of Olympia are too well defined, so that makes up for it."
Quotes about Lord Frederic Leighton by Art Historians, Critics and Fellow Artists
Frederic Leighton (1830-1896), was one of the most famous British artists of the Victorian age, establishing an international standing and reputation. His dedication to his art and the scope and ambition of his own painting won admiration and respect from his fellow artists. The recipient of many national and international awards and honours, he was well acquainted with members of the Royal Family and with most of the great artists, writers and politicians of the late Victorian era.

Leighton House Museum
Frederic Leighton, 1st Baron Leighton, PRA (3 December 1830 – 25 January 1896), known as Sir Frederic Leighton between 1878 and 1896, was a British painter, draughtsman and sculptor. His works depicted historical, biblical, and classical subject matter. Leighton was the bearer of the shortest-lived peerage in history; after only one day his hereditary peerage became extinct upon his death.

Wikipedia
Lord Frederic Leighton was one of the most influential and virtuosic artists of the Victorian era, a brilliant and stylistically adventurous painter of bodies and landscapes, who later in his career launched a new movement in British sculpture... ...his emphasis on beauty - particularly the beauty of the male body - pre-empted the art-for-art's-sake decadence of the fin de siècle, but he remained a bastion of the artistic establishment, ultimately becoming President of the Royal Academy and a hereditary peer. Several of his artworks, including An Athlete Wrestling with a Python and Flaming June, are now recognized as seminal works of their time.

TheArtStory.org