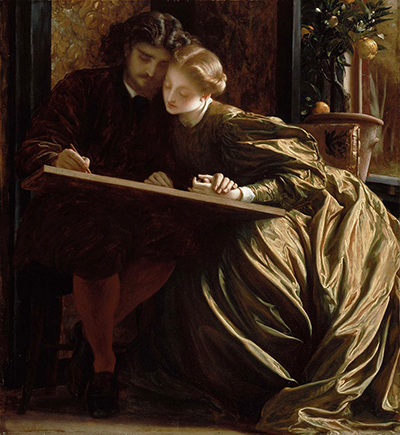 Buy Art Prints Now
from Amazon
* As an Amazon Associate, and partner with Google Adsense and Ezoic, I earn from qualifying purchases.
Frederic Leighton's use of romance and intimate moments between family and friends continues into this touching depiction of The Painter's Honeymoon.
The most memorable part of this composition is perhaps the bride's draped clothing, which the artist captures beautifully. His ability to bring elements of a scene to life was extraordinary, one can almost touch the elements of his paintings. This painting may ne a little darker in colour scheme than his others, but there is still much to enjoy. His choice of a heavy shade is what makes this whole scene darker, where most of his other paintings would have a much more liberal use of light to draw out the brightest colours.
The scene depicts husband and wife sat next to each other, as the painter explains some of his work. She looks interested in her partner's work and perhaps could later model for him. The background is of a domestic setting, with some small touches of still life flowers to be found behind them. It is interesting to see him working on his honeymoon, but such is the way of passionate artists. His wife does not seem to mind, either.