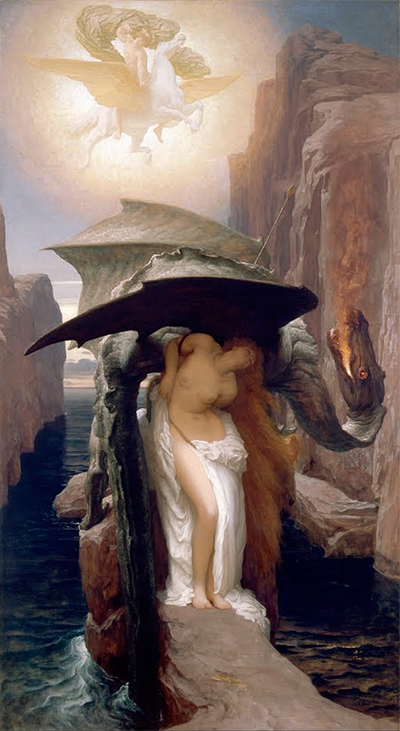 Buy Art Prints Now
from Amazon
* As an Amazon Associate, and partner with Google Adsense and Ezoic, I earn from qualifying purchases.
Frederic Leighton captures a classical scene from Greek Mythology in this painting titled Perseus and Andromeda.
The use of myth as inspiration for art was found throughout this period of British history. Many made use of this classical narratives as well as more recent British literature, which, at that time, was flourishing across the UK. The work of Leighton, at least from the sense of his paintings, reminds many of related artists such as Lawrence Alma-Tadema and John William Godward. This particular painting could easily be a part of the oeuvre of French academic painter, William Adolphe Bouguereau who used similar content and inspiration for his own work.
The heroic tale features Perseus saving Andromeda after she had been left as a sacrifice to a terrifying monster. He arrives on winged horse in a dramatic entrance that suits the style of Frederic Leighton particularly well. Famously, the hero fires an arrow from the sky to take out the monster and enable him to set her free. Frederic Leighton completed a related painting, Perseus on Pegasus Hastening to the Rescue of Andromeda, around four years later and Greek Mythology more generally can be found dotted around his career.
The Walker Art Gallery in Liverpool, UK, holds this artwork. Most Leighton paintings remain in his country of birth, with others dotted around Germany and North America. Major exhibitions of his work are relatively rare but he remains a highly respected artist who produced technically-proficient, aesthetically pleasing art. The Walker Art Fallery features several Pre-Raphaelite artists plus work from some of the most famous names in international art, such as Rembrandt, Poussin and Degas. Perseus and Andromeda is considered one of Leighton's finest creations.