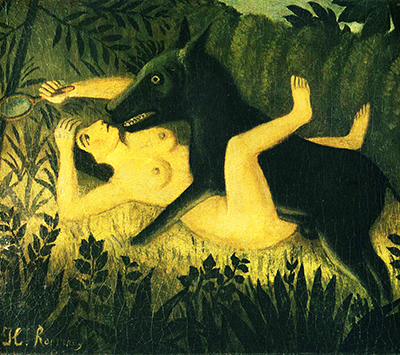 Buy Art Prints Now
from Amazon
* As an Amazon Associate, and partner with Google Adsense and Ezoic, I earn from qualifying purchases.
The Beauty and the Beast is a painting by Henri Rousseau and it is an art work of 1908. This is a review of this painting and all the details revolving around this specific Rousseau's work.
This is a live action painting of the Beauty and the Beast and it is a story that has captured the hearts of so many people across generations. Whether you are a fan of the original tale that is as old as time or the new versions of the Beauty and the Beast you have to fall in love with this painting. The Beauty and the Beast painting by Henri Rousseau is a piece of art that everyone can fall in love with. This is a painting about one of the most beautiful tale and Henri helps preserve the memory through his painting.
It is a painting, under the subject of allegorical scene. The style of used is primitivism, materials are Canvas and it was created in 1908. The Beauty and the Beast painting by Rousseau has dimensions of 32 cm by 41.5 cm. As mentioned earlier Beauty and the Beast is an artwork of Rousseau Henri JF Le Douanier and it is oil on Canvas. By the use of skill and wise-thinking, Rousseau delivers a clear image with maximum colour accuracy and resolution to bring out the old tale of the Beauty and the Beast. In some parts of the painting Rousseau utilised light shades by stroking lightly which brings out some pretty colours and darker ones for the Beast.
The Beast has been painted in black which is one of the most common colours associated with darkness. This painting by Rousseau is standard for many museums and galleries worldwide. Rousseau used a great degree of detail and very smooth transitions of colour gradients which gives a final product of a painting that is more realistic compared to other prints. With a smooth surface, and high quality paper, the final painting looks clearer and tells a more natural story. The Beauty and the Beast by Henri Rousseau canvas is an amazing piece of work and it depicts the great works of this artist in bringing out the real image of a Beauty and a Beast.
Similar Works
Here are paintings by other artists that are closely related to the Beauty and the Beast painting by Henri Rousseau:
Oedipus and The Sphinx by Gustave Moreau
Beauty and the Beast by Edmund Dulac
Beauty and the Beast by Igoh Postash
Tiger and the Beautiful Girl by Alex Krasky
Hamlet and Horatio in the Graveyard by Eugene Delacroix