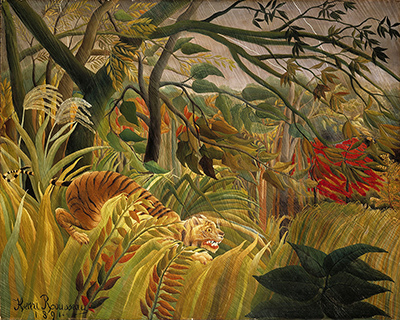 Buy Art Prints Now
from Amazon
* As an Amazon Associate, and partner with Google Adsense and Ezoic, I earn from qualifying purchases.
Eugène Delacroix's pastel drawing of a lion and tiger about to engage in combat is thought to have been a direct source of inspiration for this particular Rousseau painting.
Created in 1891, Henri Rousseau's Surprise! oil on canvas is the first painting of a tropical scene. Rousseau had never actually visited a jungle. Originally entitled Tiger in a Tropical Storm, the work takes inspiration from the Jardin des Plantes which was close to the artist's office, and from prints and illustrated books.
Following speculation around who or what the tiger in the painting was pursuing, Rousseau later explained that the tiger was pursuing a pack of ambushed explorers; although he may have originally intended the 'surprise' to be the sudden tropical storm breaking in the sky above the tiger. Stripes prevail across the painting, in hues of yellow, orange, green, brown and red. Long streaks of lightning conjure up thoughts of a rumble of thunder. Similarly the striped tiger is well camouflaged amongst the lush foliage.
The painting was ridiculed for its amateurish technique and childish naivety. Part of the reason Surprise! attracted criticism was because of the flat appearance of its characters. However, modern evaluations of the work have celebrated the dreamlike quality Rousseau's approach lends to this exotic location. On top of that, his use of myriad green shades precisely layered on to leaves has since been admired for its technique.
Rousseau successfully submitted this piece to the Salon de Indépendants in 1891, where he had been exhibiting work nearly every year since 1886. It gained the artist his first stellar review, from up-and-coming painter Félix Vallotton: "His tiger surprising its prey ought not to be missed; it's the alpha and omega of painting". Two years after he first exhibited Surprise!, the 49-year-old Rousseau officially retired from his work in customs to fully focus on his artistic interests. It was more than a decade before Rousseau returned to the jungle theme.