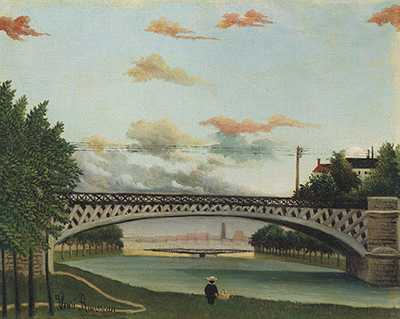 Buy Art Prints Now
from Amazon
* As an Amazon Associate, and partner with Google Adsense and Ezoic, I earn from qualifying purchases.
Charenton Le Pont is one of the many paintings painted by Henri Rousseau, a French painter and an expert printmaker. He was born in France in the year 1844 and lived his life until 1910.
Before his death, he painted the Charenton le Pont in 1910 while still in Paris. This painting is oil painted on canvas with dimensions of 32.5cm in height and 40.8cm in width. It's an artwork that includes a human with a basket at the front of the painting and green vegetation. The right edges of the painting are covered with trees, while the middle part of the painting contains the Charenton Bridge with a river flowing with water underneath it.
At the far end of the painting, one can see a city. Along the river beds, some trees appear planted in a straight line, and on the left-hand side, houses can be seen just slightly above the bridge. The top part of the paintings contains the sky and different colours of clouds. Some features of the painted area were about to receive heavy rainfall due to the dark clouds depicted here.
Style Used
Rousseau is considered a primitive painter since he was self-taught and never attended any school to learn the art. His paintings are drawn from the surroundings he grew up and worked. He even claimed to have come up with a new painting technique which he arrived at by painting a specific view of a place then adding a person in the foreground just as he did with Charenton le point. All his paintings are drawn, all the clouds have curious solidarity, trees are well traced, and more attention is paid to the details of the pictures rather than to the figures themselves. A unique quality of atmosphere and mood is derived through his sensitive observation of the colours.
What Inspired Rousseau into Painting
Rousseau taught himself how to paint since he grew up in a family that could not afford to send him to a painting school. However, he always dreamed of becoming a famous painter, and when he retired from his tax collector job at the age of forty-nine, he became a full-time painter.
Artists Inspired by Rousseau's Work
He is known to have started his design of painting that was mostly from imagination and inspirations drawn from academic sculptures. Other modern artists such as Pablo Picasso view this as a representation of directness and have gone ahead to copy the style.
Location of The Artwork
Charenton le Pont can currently be traced to the Pola Museum of Art in Hakone, Japan.