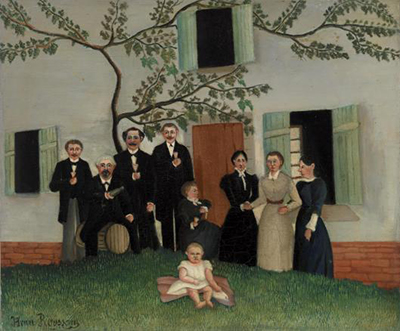 Buy Art Prints Now
from Amazon
* As an Amazon Associate, and partner with Google Adsense and Ezoic, I earn from qualifying purchases.
The painting depicts an outdoor family gathering. The small cups, wine bottles, and barrels signify some celebration. Perhaps it's a wine harvest, baptism, or birth.
The painting landscape or scene is against a whitewashed building partly overgrown with treelike grapevine. It's a mysterious and straightforward depiction of Henri Rousseau's style, which inspired Parisian artists like Pablo Picasso. The Family painting is characterized by heavy dependence on stiff portraiture, on line, and flattering perspective. His imagination is visible in the painting. The oil on canvas painting is dated 1890-1900.
Painting style
Henri Rousseau uses a childlike simplicity style, which is a naive art. He became a famous quintessential naive artist and is largely self-taught. The unschooled technique and childlike simplicity resonate with the primitiveness of the early twentieth-century modern artists. The Family painting lacks correct proportions, and the artist uses piercing and unnatural colors. This gives the painting unconventionality and mystery.
The modern unconventional family painting is a result of influences of dreaminess and tabloid illustrations. He draws heavily on surrealists and cubists. The absurdist art and metaphysical quality is a recognition of his genius. Art lovers can spot the bright colors and clear outlines with oddly appealing strangeness, which evokes mystery. The painting work is an imprint of next-generation artists.
The paint quality and technique
Henri Rousseau used student paint quality. Mostly, it's because he had limited finances. However, Henri Rousseau spent more time on painting. The painting technique is unique, and he uses one layer of paint at a time, creating multiple layers of paint in the piece. Each color is painted after another from top to bottom. Sometimes Monsieur Henri uses different shades of the same color to suit his artistic needs and make the painting unique. The perfect blending of the brushstrokes is smooth and shows the genuine feelings and decorative quality of the painting. Monsieur Rousseau perfected the individualized approach to painting using controlled brush strokes to make the painting more outlined.
Vital lessons for modern artists
It's magnificent to see his conviction with relentless expression. The radical consistency of the painting is attributed to the Gothic tapestry. The faceted style perfectly conceals underlying problems the artist faces with figure painting. Most modern artists attach paramount importance to the laws of art. Henri Rousseau provides a solution that has been elusive to most intellectual artists. He achieves the effect within one plane and transcends conventional optics. He uses visible objects of extrinsic reality as the starting point and creates endless possibilities with variation, multiplication, sensation, and repetition. As a result, he preserved his territory intact.