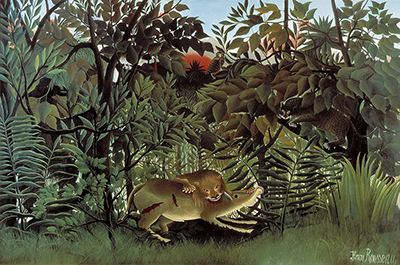 Buy Art Prints Now
from Amazon
* As an Amazon Associate, and partner with Google Adsense and Ezoic, I earn from qualifying purchases.
Henri Rousseau's oil on canvas The Hungry Lion Throws Itself on the Antelope was produced in 1905. An avid fan of Paris's botanical gardens and the zoological galleries of the Jardin des Plantes, Rousseau depicted wild animals and lush, exotic scenes in his paintings, even though he had never left the French capital.
Displayed in glass cabinets at the Jardin des Plantes' zoological galleries, stuffed animals were often positioned in dramatic poses, mimicking nature and in keeping with artistic tradition. The taxidermy at the Jardin des Plantes became an important reference point for artists sketching animals. Rousseau adapted the poses of the two animals in the centre of The Hungry Lion Throws Itself on the Antelope from a model seen at the zoological galleries of the Jardin des Plantes.
When Rousseau exhibited the painting at the Salon d'Automne, it was labelled with the following description: "The hungry lion throws itself upon the antelope, devours him; anxiously the panther awaits the moment that he too can claim his share. Birds of prey have torn a strip of flesh from the poor animal that is shedding a tear!" Camouflaged in Rousseau's beautiful vegetation is a leopard, waiting for leftovers.
Just visible, an owl and another carnivorous bird have already torn strips off the dying beast. An ape, almost obscured by leaves, also waits in the wings. Like the trees and bushes, the animals form an arc over the trees and bushes that curve over the lion and its prey. This arrangement guides the eye over Rousseau's foliage, from the fine detail of the grey-green grass in the foreground, to the dark green canopy of leaves and the vibrant blue sky and setting sun in the mid ground and background. Although Rousseau was never considered a fauve, his jungle scene may have inspired the term 'fauvism' and certainly linked Rousseau to the young generation of progressive artists.