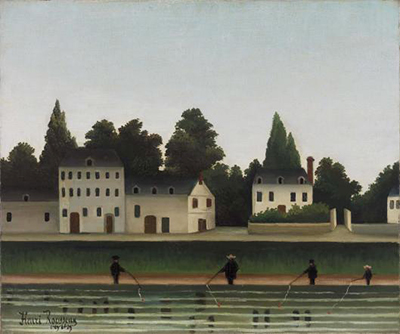 Buy Art Prints Now
from Amazon
* As an Amazon Associate, and partner with Google Adsense and Ezoic, I earn from qualifying purchases.
Landscape and Four Fisherman is one of Rousseau's most famous paintings for one reason; it was created by an artist who had no formal education in art. It led him to be the most recognized French post-impressionists. The painting is composed of four men in a rowboat who are catching fish.
Each man has a distinct facial expression, which Rousseau no doubt created intending to portray each fisherman's personality. Two of the faces are very serious, while another is excited by what he sees underneath his net. The final face looks exhausted because he is at the end of his fishing shift, and therefore this man's eyes are closed.
In the background of the painting, there is a lush green mountain landscape. Viewers can also see beautiful buildings, seemingly residential property in the backside. One house has three stories, another two stories, while the rest are traditional houses. Henri drew the doors and windows very distinctively for aesthetics. According to art analysts, Rousseau did not include these elements of nature just for aesthetics; instead, he had a purpose for portraying them. The water is conveyed in Landscape, and Four Fisherman can represent baptism, a religious ceremony all Christians believe in. It also describes the idea that humanity exists within nature; therefore, regardless of each person's personality traits, everyone will become tired at the end of every shift.
Rousseau's work has been acclaimed for its use of bright colours and broad, thick brushstrokes. He was considered a naïve painter because he did not accurately present his subjects; instead, he used artistic license to portray them as more simplistic than what they were in reality. One reason that Rousseau painted this way was due to his lack of formal artistic training. He did not have a solid foundation in the proper techniques that oil painters should use, and therefore he painted as he felt appropriate. Henri Rousseau's influence was rooted in Post-Impressionism. A French movement, this art style was founded by Paul Cézanne and influenced artists such as Vincent van Gogh and Paul Gauguin. He particularly liked Paul Gauguin's dark palette and rough brushstrokes and used it in his works.
Take a look at Rousseau's Landscape and Four Fisherman at Barnes Foundation and marvel at his realistic artwork. The inclusion of nature in this work is quite remarkable, and viewers can understand the full intentions behind Rousseau's work once they see it up close. Rousseau loved painting. He painted multiple landscapes in his life, including The Snake Charmer. According to art analysts, Landscape and Four Fisherman remain his most famous painting today, even after his demise. Even more, his work has been praised for his use of bright colours and intentional strokes of the brush.