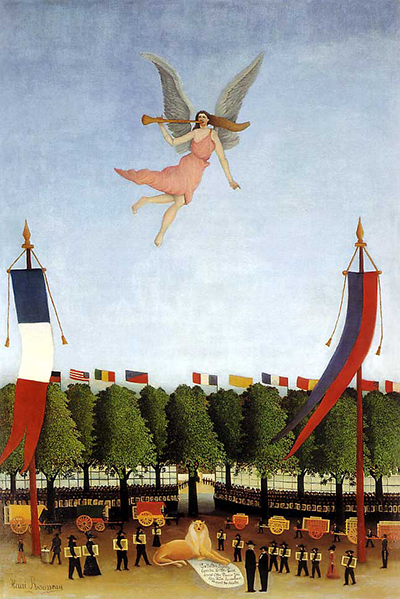 Buy Art Prints Now
from Amazon
* As an Amazon Associate, and partner with Google Adsense and Ezoic, I earn from qualifying purchases.
The exhibition of this form of art is usually held in Paris annually since 1884. This particular painting aims to reveal a specific type of art known as avant-garde art that Salon disagreed with.
The reason for the disapproval is that Salon aimed to ensure explicit accessibility to any form of modern art. Even though most avant-garde paintings were on display, of course, under a fee, they were facing a threat of being discarded due to high mediocrity from Salon.
Henri Rousseau's Work on this Painting
Henri had talent and a lot of talent in the artwork. This made him quit his job and become a full-time painter in his forties. He made some of the most renowned paintings in history, one of them being Liberty Inviting Artists to Take Part in the 22nd Exhibition of the Societe Des Artistes Independants by Henri Rousseau.
It is among the artwork that he did while facing plenty of resistance from the Salon movement. Henri Rousseau's inspiration on the painting Liberty Inviting Artists to Take Part in the 22nd Exhibition of the Societe des Artistes Independants mainly came from nature. However, he often got advice from other painters such as Felix Auguste-Clement and Jean-Leon Gerome.
This particular painting portrayed him as a naïve painter. Due to painters'painters' opposition during the Salon period, he was inspired to paint this particular painting. Even though his artwork was not recognized prominently, over the years, it grew to be known all around the world.
Theme of the Artwork
The main stylistic device that represents this painting is an allegory. The image is of a woman blowing a musical instrument as different artists enter the arena with their various paintings. In the Salon era, most artists such as Henri Rousseau faced a lot of opposition from the Salon. The main style in this painting is primitivism.
Criticism in this kind of artwork appears childlike, but on the contrary, it portrays a great deal of sophistication. The amount of ingenuousness in this artwork is quite extreme, and he always had wishes to be accepted conventionally. Some artists got inspiration from Henri Rousseau's artwork. They include Sylvia Plath, who greatly admired his work. She even went to the extent of including them in her poetry. Bill Griffith, who was a comic artist, went to the extent of creating an image of Henri Rousseau.
Current Location of the Painting
The current location of this painting is in Tokyo, Japan.