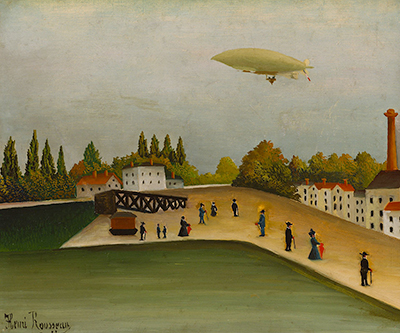 Buy Art Prints Now
from Amazon
* As an Amazon Associate, and partner with Google Adsense and Ezoic, I earn from qualifying purchases.
Quai d'Ivry is an oil on canvas painting painted by Henri Rousseau in 1907. The image has a dimension of height 461mm and a width of 550mm. The Quai d'Ivry depicts people dressed in their finest, with matching outfits and umbrellas walking on the riverbank, and it's merely the crisscrossing of two colour planes.
On the upper left part of the image, an airship is floating in the air. There are also several white buildings with trees behind them. At the left edge of the painting is a big smokestack, most probably for an industry. The image also has Rousseau's name at the bottom left, symbolising his signature. The primary setting of this image was an industrial area near the source of a river, Seine, which is in the outcasts of Paris.
Style of Art
Henri Rousseau had developed a unique painting style that was largely self-taught. His style evidenced the absence of correct proportional painting methods, applying colours at one point perspective and repeatedly using sharp, unnatural colours. Additionally, Henri Rousseau also used to work the canvas methodically from the top down in most of his paintings, including the Quai d'Ivry. In the painting Quai d'Ivry, Rousseau claimed to have innovated a new genre of portrait landscape which he fulfilled by starting an image with a specific view, like drawing his favourite part of the city and then painting a man in the foreground.
Current Location of the Quai d'Ivry
The Quai d'Ivry is currently located at the Artizon Museum. The museum was built in 1952 by Ishibashi Shojiro, the founder of Bridgestone Tire Co. . The museum includes collections from impressionists, Post-Impressionist and twentieth-century European, Japanese and American artists. Its headquarters is located at the Bridgestone Corporation in Chūō, Tokyo.
What Inspired Henri Rousseau into Painting
Rousseau got inspired by the jungle, and sometimes his sources of imagination were from paintings in the museums, visits to the zoo and Botanical Gardens in Paris and illustrated books. By combining the invention's high and low sources, Rousseau developed a modern, unconventional rendering of traditional genres like portrait, allegory, and landscape. Also, he could get inspired from images in his daughter's drawing book to draw banana-growing upside down. In some of his other paintings, he could draw grouped animals from different continents. He developed a high decorative quality and genuine feeling that attracted Pablo Picasso. Pablo Picasso bought one of Rousseau's paintings that were being sold on the street after recognising his genius. Those interested in this artist more generally might also like Surprise, Dream and Snake Charmer.