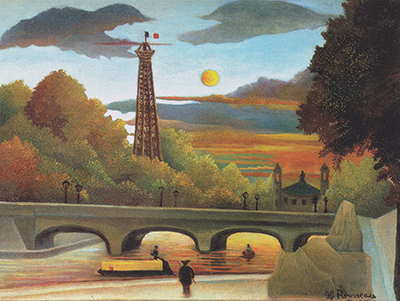 Buy Art Prints Now
from Amazon
* As an Amazon Associate, and partner with Google Adsense and Ezoic, I earn from qualifying purchases.
The renowned French artist, Henri Rousseau, has been acknowledged over the years for his post-impressionism vintage paintings. This particular painting, the Sun and Eiffel Tower in the Sunset has progressively become sensational in artwork and galleries.
Though created in the year 1910, the painting is increasing in value for its unique features:
Naïve style of art
The self-taught artist used this "style du penture" commonly known as primitivism, meaning the creator lacks the formal education and training that a professional artist undergoes. This style contributed to making its details more vivid and incorporated all aspects of symbolic content into the painting. In addition, the Seine and Eiffel Tower in the Sunset Painting is characterized by unrefined color, strong use of pattern and equal accuracy brought to details as one can see in the background of this painting.
Subject matter
This painting may appear at first glance to present conventional subject matter such as concepts manifested in images, stories, and allegories. On the contrary, the simplified, vague forms and surface patterns that merge within the images in this painting are solely from his imaginations and his view of the Eiffel tower during a beautiful sunny day. If a picture is worth a thousand words then the Seine and Eiffel Tower in the Sunset is a beautiful French story that should be told for present and future generations to come.
Location
In this fine art architectural painting, Rousseau combines his imaginations which he loved calling his dreams to offset a setting sun that produces beautiful colors in the background that is the sky and the reflection in the water. Sumptuous trees and parks line the banks of the river that flows under the Eiffel Tower in Paris, France. It is a landscape painting referred to as a cityscape featuring a bridge over the Seine River with a view of the Eiffel tower architecture in the distance.
Final Thoughts
This piece is a beautiful art that would add a touch of style and elegance to any setting in which it is displayed. Subsequently, it shows how one can break the norms in society such as not having to got school for one to create art. What better way to express one's self than with art, just as Henri Rousseau would put it, "There are two ways of expressing things; one is to show them crudely, the other is to evoke them artistically."