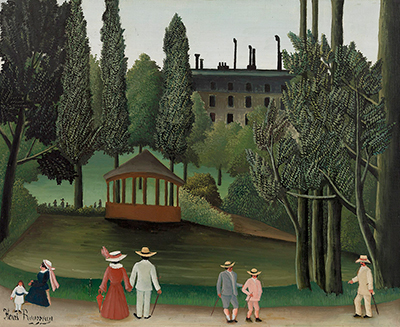 Buy Art Prints Now
from Amazon
* As an Amazon Associate, and partner with Google Adsense and Ezoic, I earn from qualifying purchases.
This French post-impressionist painter is thought to have painted Vue du Park Montsouris, Le Kiosque between 1908 and 1910. It is among the last works he did before passing away. Rousseau claimed that nature was his only teacher and most of his paintings depicted jungle scenes, despite never visiting one.
He also did a few topographical images of Paris, where he lived. View of Montsouris Park, The Kiosk is one of those pieces. Rousseau once said that he invented a new form of portrait landscape that focused on a specific view then included a person in the foreground. This painting explains that style beautifully.
A Visit to the Park
This Rousseau features the Parc Montsouris, one of the parks that opened in Paris in the 1870s. It was a time of urban renewal across the French city. The park was one of the city's famous locations, attracting tourists and locals. In the painting, a kiosk takes centre stage. It is a simple structure that is surrounded by tall trees and bushes. Beyond the kiosk is an artificial lake, which was one of the park's attractions. A dirt path on one side of the kiosk leads from the front of the park to the lake. Beyond the tree, a stone building is visible. It reminds the spectator that despite the gorgeous scenery, the park is still in the city.
In the foreground, View of Montsouris Park, The Kiosk includes various people. A mother and child on the left of the painting seem to be having a good time at the park. Next to them is a couple holding hands, looking out to the lake. Another couple is walking away from the park as if just completing their visit. Further to the right, a man walks by, seemingly on serious business. The assortment of figures in the foreground of the painting depicts the different types of visitors that the park entertains.
A Naive yet Sophisticated Style
Critics termed Rousseau's technique as almost child-like. The French painter was self-taught and was considered to be naive or primitive. In the View of Montsouris Park, The Kiosk, the simplicity of Rousseau's style, is clear. However, he injects elegance in the way he contrasts colours. The painter dressed the figures in bright hues that liven up the jungle green of the park. His artwork also had a unique sense of spatial dislocation. In this painting, the foreground is flat such that the figures appear to be on a stage, with the park serving as the backdrop. The scene portrays tranquillity, as the people around the park blend into the natural environment. Landscape and Four Young Girls by Rousseau and John Kane's Along the Susquehanna are other similar works by this artist. Followers of the artist should also check out Surprise, Dream and Sleeping Gypsy.