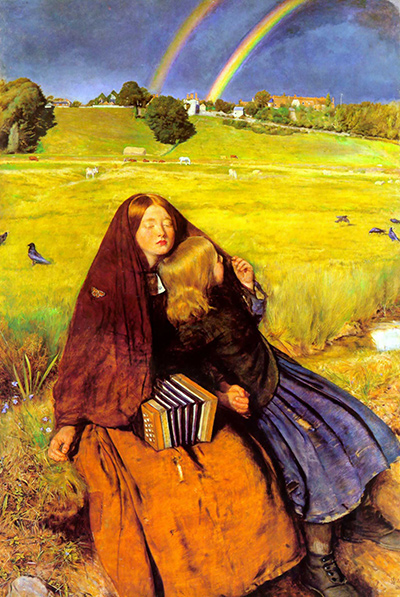 Buy Art Prints Now
from Amazon
* As an Amazon Associate, and partner with Google Adsense and Ezoic, I earn from qualifying purchases.
Follow the path to fame of British painter, John Everett Millais
John Everett Millais was born in 8th June, 1829 in Southampton, England to the eminent family of Mr. and Mrs Millais. The father, J.W Millais, was an affluent man from Jersey and the mother, Emily Millais, came from a propertied family of saddlers. He spent a greater part of his childhood in Jersey, his father's hometown but in 1938 he went to London.
In London, he was sent to Sass's Art School to enhance the magnificent drawing talent that he had started exuding from his young age. At the age of 9, John Everett Millais had started getting significant accolades; he was, at the Society of Law, awarded a silver medal. One of the most salient aspects of John Everett's painting talent is the tenacious belief that his mother had in him. His mother believed in him and encouraged him to pursue his dreams.
When John was 11, in 1840, he got an admission to the Royal Academy School. In the course of his stay there, he went on to receive more panegyrics in form of the awards that he was accorded. In 1843, John Everett Millais received a silver medal for his work; but this was just a tip of the iceberg. John's painting finesse made him reputable in 1846 as his works started to exhibit in a series of arenas such as the Art Academies and Museums. To cap it all off, he made one of the most famous Christian-Art paintings of that time, The Tribe of Benjamin seizing the daughters of Shiloh, which earned him an award of a gold medal in 1847.
The year 1848 marked a significant stage in John Everett's life during his time at the Royal Academy. It was at this time that John together with a conglomerate of two other friends, William Holman Hunt and Dante Gabriel Rossetti spearheaded the founding of the Pre-Raphaelite Brotherhood. This was an association of artists who controverted the prevalent conservative British art. They believed that artists who preceded Raphael (one of the pioneer painters) could do much better work.
His exquisite painting skills continued to thrive, as a member of the Pre-Raphaelite Brotherhood. In 1949, he did and exhibited the Isabella painting at the Royal Academy. The Isabella painting is at the moment, kept at the Liverpool's Walker Art Gallery
John Everett after Tying The Knot
In accordance with the Biblical concept of marriage where a man leaves his parents, finds a woman and the two become one, John Everett Millais found his better half in 1855. The beautiful lass, Euphemia Chalmers Gray pulled John's heartstrings and they got married despite the fact that Euphemia had been married to and divorced John Everett's acquaintance, John Ruskin. John and his wife, Euphemia, settled and established their home in Perth, Australia.
John and Euphemia begot eight children between 1856 and 1868. One of their sons, John Guille Millais, became a talented writer who did great posthumous biography for his father. Sophy Gray, who was Euphemia's sister modelled for a myriad of pictures drawn by John Everett.
John Everett's Salient Change of Style
His marriage to Euphemia saw a significant change in his style of painting. This aspect of change was greatly criticised by John Ruskin who began to vie his work with tremendous spite and disdain. On his part, he perceived his new style of art as a more mature and more confident form of art. He departed from the flamboyant Pre-Raphaelite painting style and adopted a more revamped and detailed form of painting. This new style of painting was orchestrated basically to support his significantly big family.
This transformation was in the sense that he began to tailor his paintings to suit the vagaries of public demand and his artwork since took a rather arbitrary way. Consequently, John Everett ceased to do paintings of morally motivating themes and conformed to paintings that would be pleasing to the public eye. Other than Ruskin, John Everett was heavily criticised by other renowned persons such as William Morris who came out strongly to castigate his 'money-driven' form of art.
On the other side of the coin, was a group of people who admired John's new style of art. This is a group of people who held John's art in very high regards that they could not disparage his work in any aspect. They viewed John's art as exquisite by all standards and passionately defended him before those who sought to denigrate his work and view his art as diminute.
The proficiency and dedication of John Everett to art kept manifesting profoundly, even as a marriedman. In 1856, John Everett did the magnificent and well renowned painting, Autumn Leaves which are currently preserved at the Manchester City Art Galleries. Euphemia turned into John's 'number-one fan' and actively promoted John's work.
His tremendous painting skills made him one of the richest artists of that time as he was terrifically successful. He was elected as an associate member of the Royal Academy of Arts in 1853. This was quite a salient upshot in John Everett's painting career. It was not the end though as John Everett was made a full member of the Royal Academy in 1963. In the course of his membership of the Royal Academy, he became the president of Royal Birmingham Society of Arts in 1882 by way of unanimous vote.
John Everett, as a member of the Royal Academy, continued to be hardworking and industrious. He was prominent therein and became actively involved in the activities of the academy. In 1885, his hard work was sufficiently rewarded; John Everett Millais, historically, became the first painter to be accorded a Hereditary Title. The Queen of England, Queen Victoria made him a Baronet of Palace Gate, in Jersey.
When Lord Leighton (The then president of the Royal academy) died in 1896, there was no better replacement for him than the man himself, John Everett Millais. John Everett was elected the president of the Royal Academy of Arts in 1896, succeeding Lord Leighton. Later that year, John Everett Millais met his untimely demise. He succumbed to throat cancer and was buried in the St. Paul's Cathedral.
Upon his death, a statue was erected in front of The National Gallery of British Art, as it then was (Now Tate Britain) in 1905. The statue was located in the garden on the east side of compound. The installation of this statue was orchestrated by the Prince of Wales who chaired the committee which commissioned the statute.
The John Everett statue has faced a myriad of turbulences, among them, the attempt by the Director of Tate Britain, Sir Norman Reid to replace it with another statue; that of Auguste Rodin in 1953. Shots were being fired at the statue's direction in 1962 when Sir Norman Reid once again vouched for its removal. However, the Pandora's Box that he sought to open was slammed shut by the Ministry of Works, who owned the statue at that time.
However, the statue was removed in the year 2000 when the ownership changed hands from the Ministry of Works to the Ministry of English Heritage. This took place during the regime of Stephen Deuchar.
The Most Exquisite pieces of Art by John Everett Millais
John Everett Millais is a name that stands out in the precincts of painting as that of a man with an astounding prolificacy in painting. Some of the most exquisite artworks done by him include:
Christ in the House of His Parents of 1850
This was one of the exceptional pieces of art done by John Everett. It particularly spurred his popularity to a higher level due to its controversy. This was one of the first pieces of antique works that John Everett did while transitioning from the Pre-Raphaelite Brotherhood style of writing to his new and reformed style.
A Huguenot of 1853
This was an embodiment of meticulous artwork which shows an estranged couple who are on the verge of separating due to religious altercations. This was quite a salient theme at that age and time and John Everett replicated it in a series of other paintings that he did.
The Boyhood of Raleigh of 1870
This is one of the paintings that elucidated John Everett's tremendous love and affection for children. One intriguing feature of this painting is that it was modelled by his two elder sons. John Everett was a man with so much adoration for children that was inevitably replicated in the size of his family and the expression he portrayed in his paintings. This painting is currently kept at the Tate in London.
Bubbles (1886, A & F. Pears Ltd)
This is one of the paintings that brought to John Everett a great deal of popularity. It was a magnificent and one-of-a-kind painting which was quite significant at the time. It was used to advertise Pears soap.
Conclusion
John Everett was undoubtedly a prolific writer who deservedly earned reputable accolades during his artistic regime. Even at the point of his demise, he was a man of impeccable character and exceptional prowess.