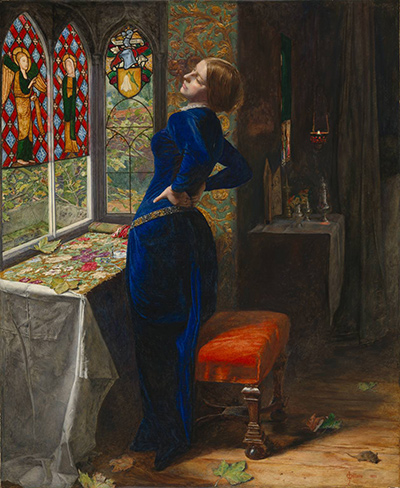 Buy Art Prints Now
from Amazon
* As an Amazon Associate, and partner with Google Adsense and Ezoic, I earn from qualifying purchases.
Mariana is an 1851 painting by John Everett Millais. The painting is based on Shakespeare's play, Measure for Measure.
The play about a woman rejected and abandoned by her fiancé for years. However, the play has a happy ending when the lady is at the end reconciled with her fiancé which we can't really tell from Millais' painting.
We see a woman standing alone in a blue dress, stretching her back and seems to be really sad. She has probably stood up after a long time of working on her tapestry. This gives a sense of waiting. The passage of time and solitude.
Millais create a vivid picture of what Mariana thinks and feels. There is an embroidery on the table. Fallen leaves that could be quilted in the pattern. The autumn leaves show the passage of seasons. It gives this thought that this is a place that she sits repeatedly for years just working in her tapestry with a feel of patience. The colours that occupy her surrounding are illustrated so meticulously.
The room that Mariana is standing in does not appear to be big. We only see a part of it. She is caught in the middle of the stool she was sitting on and the table. This gives a feel of being trapped. An enclosed interior that has been invaded by an exterior as we see the autumn leaves from outside on the table.
Behind Mariana is an altar. Her own space where she prays. We get the sense that she is a woman whose life is taken up by prayer and embroidery. It's quite difficult not to look at this as a general predicament of women in the Victorian error. Sitting at home, sewing, being faithful and just having a life that is limited. We can see her physical strain when she is stretching her back as her wanting to move and get into the world outside.
Outside the window, we see light, the ground, and the leaves. This painting is seen as a prototype of Millais' attention to detail, originality, and celestial strength as a colorist. The velvet on the orange stool, blue dress, and how clear the golds and reds are.
The mouse on the lower right of the painting was painted as a result of a dead mouse that Millais caught in his studio. The stained glass window in the painting is the same on that Millais had climbed up a scaffolding at the Oxford University to get a good close look.