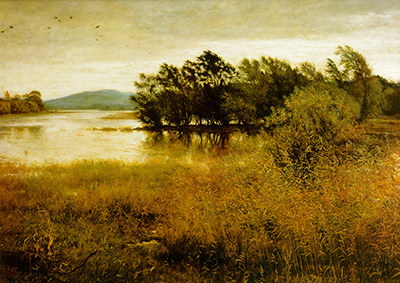 Buy Art Prints Now
from Amazon
* As an Amazon Associate, and partner with Google Adsense and Ezoic, I earn from qualifying purchases.
Chill October was the first of the large-scale, Scottish landscape paintings that defined the latter years of John Everett Millais' career.
Millais' connection to Scotland was through his wife, Euphemia Chalmers Gray (Effie) who was born in Perth. Millais created Chill October in 1870 while standing on a platform on a backwater on the River Tay. The painting represents a move away from Millais' earlier Pre-Raphaelite style.
Millais had been a founder of the Pre-Raphaelite Brotherhood, a group of painters and poets that desired to change the face of art by focusing on highly concentrated colour and intricate composition. However, the Brotherhood disbanded only a few years after it had formed and the works of the original members became more individualist. October Chill is a pure landscape painting that depicts Millais' attention to detail in his later work.
The painting captures the landscape as if was a photograph. Millais has recreated the view from the River with careful, precise attention to even the smallest of details. The landscape speaks for itself as there is no figurative subject that dominates the painting. The yellow, green and brown shades used create a somber, bleak mood. Some believe that Chill October is simply a painting that exists for no other reason than to reproduce the landscape and therefore it's sole focus is the landscape itself.
It is documented that Millais visited Perth in Autumn to fish and shoot and many of his pure landscape paintings used the colour palette of Autumn. However, others feel that Millais may have been conveying a message about the transience of life. When compared to his earlier work where there had always been a figure to highlight the sentiment behind the painting it seems as Chill October's view does this alone. The painting seems the next step after he created Autumn Leaves in 1856 - this painting also conveyed a message that beauty is fleeting and although depicts a number of girls, the painting has no single focus to tell the story behind it.
Chill October is a beautiful, haunting painting that clearly demonstrates Millais' talent for capturing detail. It communicates a notable shift from Millais' Pre-Raphaelite approach to a style that was more popular with the audience of his time. It was first shown at the Paris International Art Exhibition in 1878 and, more recently, attracted a great deal of attention at the Pre-Raphaelite exhibition at the Tate Britain. It now forms part of the collection of Pre-Raphaelite enthusiast Sir Andrew Lloyd Webber.