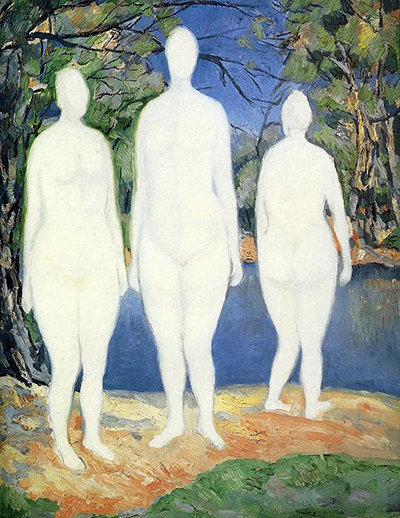 Buy Art Prints Now
from Amazon
* As an Amazon Associate, and partner with Google Adsense and Ezoic, I earn from qualifying purchases.
Купальщицы, or Bathers, was produced by Kazimir Malevich in 1908. It is considered by some to have been a sketch and study rather than a completed artwork because of the lack of detail upon the three main figures.
You will notice how the background is entirely complete, giving us a scene akin to the career of Paul Cezanne, who himself featured scenes of bathing many times over. There is a small lake and either side we find banks with trees and foliage. Bathing was a common past time in the 19th and early 20th century, where anyone and everyone could enjoy a few hours of nature, even in relatively built up areas. This was, of course, a long time before the influx of technology into our daily lives and many will be fond of seeing simpler times. Some of Cezanne's work on this theme included The Large Bathers, The Bathers and Women Bathing. He was not alone either, and many members on the Impressionist movement, plus others in and around the fringes of this group would also tackle this topic many times over. Malevich was originally trained in Impressionist and Post-Impressionist art as a student and so this approach would have been entirely familiar to him and he worked in a similar way himself in the early years of his career.
If you look closely at Bathers you will see some feint outlines on the three figures, suggesting perhaps that the artist had initially drawn their rough details in pencil, before then completing the other parts of this painting. Ultimately this work would never be finished, but why not, when the artist would have lived for nearly another three decades after this initial work was done? There are many possible reasons for this, such as he lost interest in the composition, or perhaps mislaid the painting before it was then discovered by a collector at a later date. Any evidence that might be available on this will probably still be in Russian and so it is hard to really draw any conclusions on that.
This painting can now be found in the collection of the The Russian Museum, St. Petersburg, Russia. There you will find an excellent survey of Russian art in general, with a good spread of history covered from way before the Renaissance up to the 20th century. The inclusion of Malevich here shows how the establishment grew to accept his achievements having initially been against his particularly modern approach during his own lifetime. He is now rightly celebrated within his native land and tastes have become far more accepting today than they would have been during what was a particularly turbulent time in the early 20th century. His reputation has also become strong from an international standpoint, and the US feature him prominently within some of their best art galleries, including the world renowned MoMA which itself focuses entirely on Modern Art from across the globe.