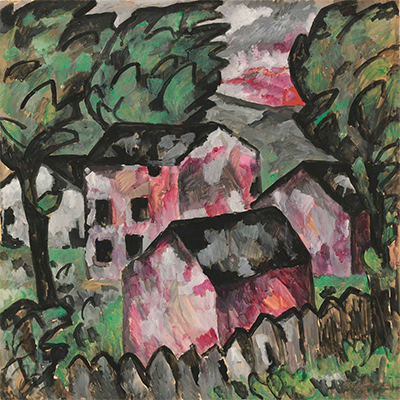 Buy Art Prints Now
from Amazon
* As an Amazon Associate, and partner with Google Adsense and Ezoic, I earn from qualifying purchases.
This bright landscape scene was completed by Kazimir Malevich in 1911 and is somewhat unusual when considering the main themes and styles of his career.
The abstract style, coupled with a relaxed delivery of form could remind some of Gustav Klimt's landscapes, perhaps also of related artists Egon Schiele and Franz Marc. They all made use of bold, bright colour and perhaps were more concerned about palette choices rather than accurately depicting each building. This informal approach to art was a major element of the success of impressionism. The lines of detail are also particularly strong, a long way from the teachings of fine art from previous centuries.
Malevich used gouache on paper for this artwork which perhaps explains why it looks so different to much of his other work. Christies completed research on this painting in order to facilitate its auction in 2018. It received a price of £7,883,750, which was in line with its estimate. The likes of Malevich and Kandinsky are world famous artists whose work always command a high premium. When considering the highly respected nature of the Christies Auction House, many would have felt confident in bidding for this item which was included within their Impressionist and Modern Art Evening Sale on the 20th of June in that year.
It would be wrong to ignore Malevich's contribution to landscape painting, it is just that most of his other works in this genre came in different styles. He was particularly drawn to this type of art in the earlier parts of his career. Later on he would spend more time on figurative portraits and his signature approach to truly abstract art, which he termed Suprematism. The artist would evolve his style over time, partly due to his desire to keep experimenting but also because he came under pressure at times in his career to reduce the levels of abstraction that he would use within the mid-1910s.