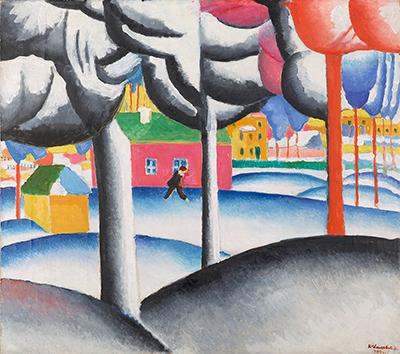 Buy Art Prints Now
from Amazon
* As an Amazon Associate, and partner with Google Adsense and Ezoic, I earn from qualifying purchases.
Winter Landscape, or Зимний пейзаж as originally titled by the Russian painter Kazimir Malevich, is dated at circa 1930, placing it right at the end of this important artist's career.
The piece is classified as Neo-Suprematism which essentially refers to the new direction in which this artist travelled after his earlier abstract formations which would become his most prominent series of work. By now he was attempting to find a balance between his curated worlds and reality, where bright colour and abstract shapes continued, but a connection to the real world could still be seen and understood. We find a successful balance of that here, with a charming landscape scene which is delivered within a Cubist-style world. We firstly find several dominant trees in the foreground which serve as a frame to the content found behind. Heavy gradients are present here, where two very different tones tradition from one to the other in a short space. This produces a feeling of contour, such as curves on the trunks of the trees and round bushes within the trees. Comparisons can easily be made with niche movements within the overall Cubist era, such as Tubular Cubism which originated in France.
In the distance we can make out a number of buildings which suggests we are on the outskirts of a small but busy village. The artist uses bright tones of colour to produce a positive view of this settlement, and the black and white tones of the trees nearest us help to bring out the brighter colours even more. The buildings become smaller and smaller into the distance as the artist delivers a rough use of perspective, just as he does with the row of trees which slowly creep off into the background along the right hand side of the composition. One can today appreciate the beauty of these rural locations within Russia, though other artists might have captured them in a much more negative manner, which underlined how Malevich was proud of these places and enjoyed featuring them within his work.
Winter, or Landscape in Winter as it is sometimes known, is now in the permanent collection of the Museum Ludwig in Cologne, Germany. This important gallery offers up a number of Expressionist artists who for a short period in Germany were dismissed as degenerate in a similar way to how Malevich was treated within his native Russia. They are now seen as an alternative to the brutal behaviour which occurred in Germany at around that time and for some years represented hope for something better for the future. Today they serve as a reminder of how art can be oppressed, making Malevich's inclusion within the collection entirely appropriate. They also hold other Russians within the collection, such as Ljubov Popova, Natalia Goncharova, Mikhail Larionov and Alexander Rodchenko. Most major German Expressionists can be found featured here, including the likes of Erich Heckel, Karl Schmidt-Rottluff, Ernst Ludwig Kirchner, August Macke and Otto Mueller, making it one of the best collections of early 20th century art anywhere in the world.