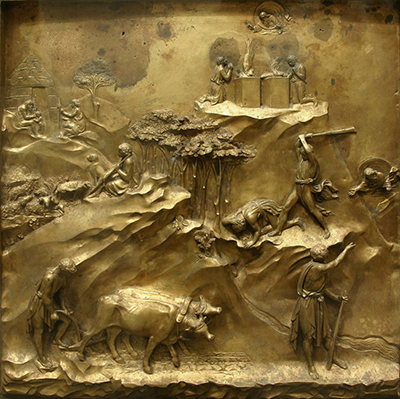 Buy Art Prints Now
from Amazon
* As an Amazon Associate, and partner with Google Adsense and Ezoic, I earn from qualifying purchases.
Cain and Abel, as part of a series of gilded bronze sculptures for two bronze doors, is an elegant piece with perspective and portraiture that underlines the qualities of artist Lorenzo Ghiberti
It is necessary to understand the status of Italian sculpture and architecture at the time of Ghiberti's career in order to appreciate the advancements that his work brought about. His work brought about a change in the use of perspective and his tutorship of Donatello, among others, would also help to push the discipline of sculpture ever onwards. It was his earlier bronze doors that raised his reputation to extraordinary levels, leading to a queue of donors wishing to have his name attached to their own project.
The full series of panels took 27 years to complete, partly because of the other commitments given to this much in-demand artist. Despite his use of skilled assistants for the less important parts of many of his compositions, Ghiberti was still weighed down by the pressure of completing his commissioned pieces on time, whilst continuing to keep his artistic qualities at their highest level.
This panel captures several related episodes from the story of Cain and Abel. If you browse the larger, detailed image at the bottom of the page you may be able to make out each of these stories - Adam and Eve in front of their tent, Abel protecting his herd, the sacrifices made by Cain and Abel, Cain finally killing Abel and then the symbolic action of God banishing Cain for eternity.
Cain and Abel is another significant theme from Christian teachings that has been used frequently as inspiration by renaissance and baroque artists. Cain slaying Abel by Peter Paul Rubens, The First Mourning (Adam and Eve mourn the death of Abel) by William-Adolphe Bouguereau, Cain leadeth Abel to death by James Tissot and The Body of Abel Found by Adam and Eve by William Blake are some of the memorable contributions.