This beautiful artwork is just under a metre tall and was completed on a panel of beech. It was not unusual for artists in the Northern Renaissance to use wood as a canvas medium and over the centuries many different elements have been used within the medium of oil painting, which originally was egg tempura. This original artwork is part of the Royal Collection in the UK and marks a significant highlight in their collection of works from the 16th century. The roots of the British Royal Family lie in Germany itself, so it makes sense to have artworks such as this within their collection, even though they would later amend the family name to Windsor in order to settle more easily into the UK. Apollo and Diana were the gods of the Sun and Moon, respectively, and they provide both symbolic and aesthetic values within this composition.
Apollo represents strong moral fibre, where as Diana symbolises chastity. The elements of archery and game hunting found in this painting is also a part of her background too. Mythology has proven a significant inspiration for artists going back many centuries, well beyond even the Middle Ages. Cranach himself would also draw on religious themes too within other paintings. The two figures dominate the foreground, alongside their hunting reward. Behind them is a cover of forest, similar to that used in a number of other outdoor portraits. There is also a small opening which reveals a town in the right hand side and adjoining rockface, with a further mountain in the far distance. Every part of this wooden panel is filled with detail and imagination, there is also a fairly bright finish compared to some of the work produced in Europe during this period. There is also a small lake which allows the artist to reproduce the town's building again but upside down, as a reflection. Albrecht Durer would produce an engraving of the same name which featured the two figures in similar poses, but without the additional content used by Cranach.
The larger image below features more of this extraordinary detail - see the expression in the stag's eye as well as the stones added beneath it, for example. Apollo's modesty is covered by a stylish flourish of material that also holds his spare arrows. Diana is left completely unclothed, as she stares calmly out to the left of the scene. Those fortunate enough to see the original painting up close will be able to enjoy the levels of oils used by the artist, including the touches of detail to the foliage which provide clarity. Lighter tones of green, perhaps with some yellow, on top of the darker green allows a depth to his forest which both frames the composition but also brightens the foreground too. Some have claimed that the style of this painting is in line with the broader approach of the famous Danube School.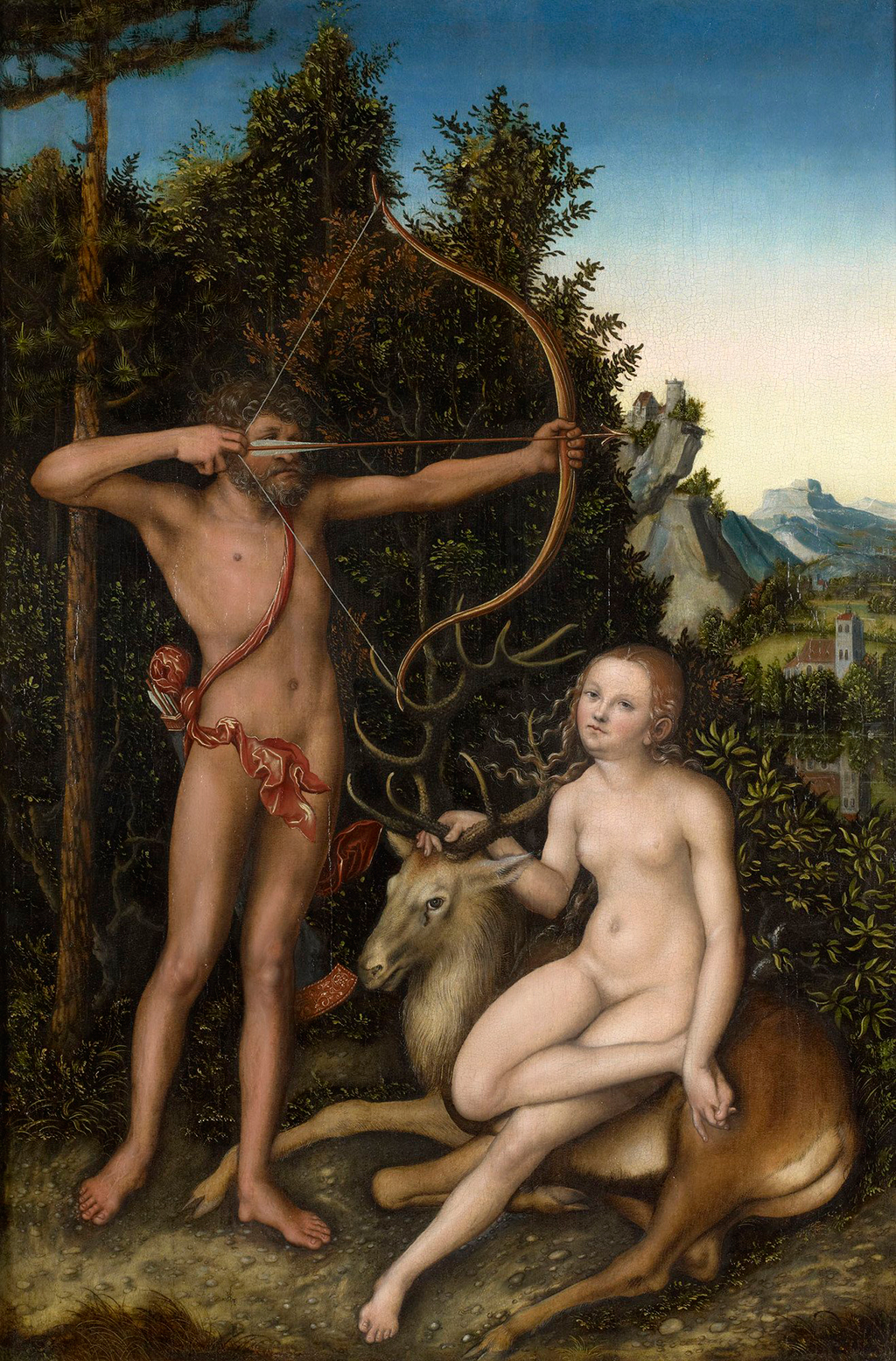 Related Paintings of Apollo and Diana