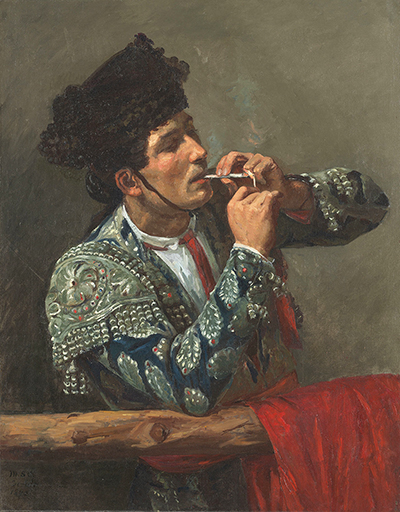 Buy Art Prints Now
from Amazon
* As an Amazon Associate, and partner with Google Adsense and Ezoic, I earn from qualifying purchases.
After the Bullfight delivers a theme rarely found within the career of Mary Cassatt. We find here a heavy Spanish influence upon an American painter who would have been in her late twenties at the time, and still very much experimenting with different ideas, searching for her own unique style.
We do know that Cassatt would actually travel around Spain for a period of artistic and personal discovery at around this time, eager to broaden her understanding of European culture. She would already have been encouraged by the work of artists like Edouard Manet (Dead Toreador and Bullfight), who had already taken themes of Spanish culture into their own work. The French Impressionists themselves were devoted to elements of their native land, but also happily travelled from time to time in order to discover new avenues of inspiration - who can forget Monet's series of cityscapes in London, for example, which included the iconic and symbolic Houses of Parliament on several occasions. So the influence and encouragement was there, and Cassatt took the opportunity readily - we cannot forget that she was already an American living abroad, and so was clearly a naturally curious individual who wanted to expand her horizons as far as possible. Modern travel tends to be much more diverse and across longer distances, but at this time westerners would rarely travel outside of the continents of Europe and North America.
The portrait itself features a young man lighting a cigarette, looking to relax after a lively bullfight. Thankfully for him he appears unharmed, but the bull may have had a different fate. This popular Spanish pastime showed little interest in the welfare of the animal until recent decades, and even the female artist here, whose work could often be particularly tender and sensitive, chooses to completely ignore the creature. What we have here is more of a display of detailed attire, with a beautiful traditional outfit touches with dabs of white paint that create the illusion of light flooding in from outside the composition. A wooden rest comes across the side of the painting at the bottom, which suggests that the fighter is still within the stadium and taking a spare moment to rest away from view. In fact, the bull fighter's pose could easily be of an attractive man relaxing in a Paris bar, were one to alter the clothing. Cassatt is hoping to present this young man's personality, and perhaps separate it from his occupation.
This painting can be found in the collection of the Art Institute of Chicago, USA. This exciting institution features some of the most famous paintings in European and American art history, making it an excellent venue from which to learn more about the cultures of both regions. Besides the work of Cassatt that can be found here within the permanent collection, other notable highlights include the likes of Nighthawks by Edward Hopper, The Child's Bath by Mary Cassatt, A Sunday Afternoon on the Island of La Grande Jatte by Georges Seurat and At the Moulin Rouge by Henri Toulouse-Lautrec. Even besides those great items, there are thousands more things to see and enjoy, offering a packed day of discovery for even the most educated art follower, with such a broad range of movements covered across this large venue.