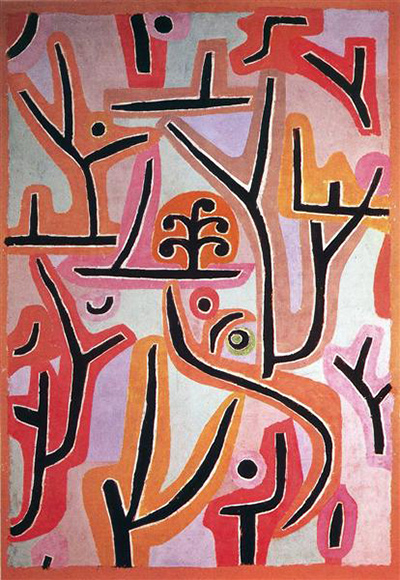 Buy Art Prints Now
from Amazon
* As an Amazon Associate, and partner with Google Adsense and Ezoic, I earn from qualifying purchases.
Park Bei Lu (or "Park near lu") is a painting by Swiss-German artist named Paul Klee
He lived between 1879 and 1940, and had an individual style which drew influence from surrealism, expressionism and cubism. He is highly regarded for his explorations into color theory and his lectures named "Writings on Form and Design Theory" is considered very important to modern art.
He also taught at Bauhaus, which was a german art school famous for its method of design. He taught alongside his colleague russian painter Wassily Kandinsky.
His artwork often reflects his mood, dry humor and beliefs.
This particular artwork was painted in 1938. It is painted with oil and colored paste on paper on jute. The dimensions of the painting are 100cm tall and 70 cm wide. The original frame strips remain on the painting.
The painting shows black symbols which represent trees and their branches, as well as paths within a park. The trees are devoid of leaves, as if it were still winter. The surrounding zones of color appear to be foliage.
There is a strong contrast between the darker trees and the colorful foliage. For this reason, one interpretation of this painting is that the painting represents spring and winter, and both blossoming and death within the same image.
It is said that "Park Bei Lu" was created when Paul Klee was inspired by an impression he had of the nature within a park located near Lucerne. Often, his wife Lily needed to travel to Lucerne for health reasons to visit a sanitorium. While visiting his wife at the sanitorium, he would stroll through the park with her and no doubt would have been inspired by the landscapes.
The artwork is currently on display at the Zentrum Paul Klee in Bern, Switzerland. The "Zentrum Paul Klee" is a museum dedicated to the artist Paul Klee himself, designed by the italian architect Renzo Piano.