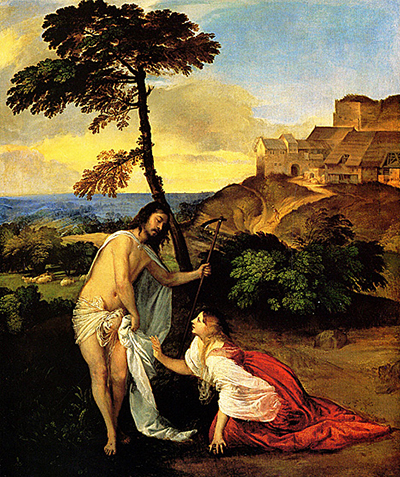 Buy Art Prints Now
from Amazon
* As an Amazon Associate, and partner with Google Adsense and Ezoic, I earn from qualifying purchases.
Titian's painting of Christ and Mary Magdalene interacting after He arose from the grave shows details which are left to the imagination in the Biblical account.
This painting is also known as Noli Me Tangere. While this is Titian's interpretation of the scene, it brings the report to life in a new way.
Christ has been revived from death. In a garden he is first spotted by Mary Magdalene. In this painting she is demonstrated wearing fleshly red, as per convention. She has always been associated with beauty and sensuality and her flowing cloak brings that to mind.
In any case, the human dramatisation as Titian shows Christ twisting far from her, reminds those familiar with the Biblical passage of Christ's words that no one should touch him at that point.
It is dramatic and Titian calls awareness to that energy well. Each viewer may only imagine Mary's feelings at what must initially seem to be a rejection. That would be an unpleasant scene and the artist has rendered it with a blue and gold skyline. An agrarian villa in the background adds to the puzzle. The awestruck Magdalene is depicted with close feeling, her sense of loss is unmistakable.
When people have lost someone they love, they often reach to connect with something of theirs physically, even if they cannot touch the person. Mary sees Christ right in front of her and yet, she cannot make the connection she so earnestly desires. That she in fact, needs.
Interestingly enough, Christ appears to the Magdalen after the Resurrection to solace her. For this reason, viewers understand that His command to not touch Him is not a rejection of her. It must be for some other reason. At first she supposes he is a planter. When she remembers him he advises her not to touch him and this is where the title of the painting Noli Me Tangere or "let nobody touch me" arises. Perhaps this is a reminder that, as the Bible records, Christ will soon rise to paradise and send the Holy Spirit to his devotees.
Not being able to physically touch Him is not a rejection. The relationship will be one that places emphasis on a connection through the spirit. Even though Christ has risen from the dead, showing that those who believe in Him do not need to fear death any longer, a greater level of connection has been made available. He doesn't need them to stick to his physical nearness. This is illustrated strongly in Titian's composition.
Scans done with x-rays demonstrate that Christ was initially painted wearing a nursery worker's cap and moving in the opposite direction of the Magdalen. The scene was likewise definitely adjusted while the work was being done. Titian, whose given name was actually Tiziano Vecellio, was just around twenty when he painted this piece. In fact, he had recently lost Giorgione, the teacher who had the best impact on him. Giorgione taught Titian how to use light well in his landscapes. For Titian, scenery was from that time forward a necessary piece of his compositions.
Mary Magdalen has quite recently perceived Jesus by Him showing clearly that He knows her. He has not forgotten her and shouts out her name when she is too overwhelmed by grief to recognise him. Titian demonstrates her surge of feeling by showing that she is too weak to hold herself up. Her turbulent emotions at seeing Jesus have thrown her to the ground.
Still, while Christ loves Mary, in fact has died for her, His mission is not yet complete. His body is angled away from her and towards the viewer. Perhaps this feature of Christ and Mary Magdalene is a reminder that the viewer is free to engage with him as well. She cannot hold onto Him and He cannot stay there with her in physical form for as long as she would like for He is passing by.
His determined strides are coordinated towards the front of the artwork, not towards Mary but rather towards us, the watchers. We consequently wind up confronting the Lord's approach, likewise welcomed to remember Him and to declare the delight of His restoration. Mary Magdalene understands this and Titian portrays an element of wonder in her expression as well.