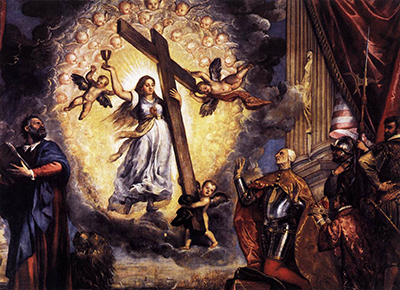 Buy Art Prints Now
from Amazon
* As an Amazon Associate, and partner with Google Adsense and Ezoic, I earn from qualifying purchases.
This painting is dated 1575-76 and can now be found in the Sala delle Quattro Porte at the Palazzo Ducale in Venice
It is believed that much of this work was completed by Titian's studio, though he would have taken the lead role in shaping out composition and also would have the last on whether he was happy with the contributions of others.
Doge Antonio Grimani Kneeling Before the Faith is an oil on canvas measuring an impressive 365 x 500 cm. It was incomplete at the time of Titian's passing and was therefore finished off by his studio. They would help out with many of his finest works, particularly during his busiest periods as an artist when commissions were arriving frequently.
There is a subtle trail of the city of Venice which circles around the main focus of the painting whilst the patron saint of Venice can be seen on the opposite side. Doge Antonio Grimani kneels in front of a powerful symbol of Faith, in human form.
Many artists aside from Titian have been inspired by the city of Venice, both both his work in the Late Renaissance and also many since. John Singer-Sargent produced some stunning watercolours and oil paintings whilst visiting this romantic location such as Boats, Venice and Gondoliers Siesta. See also the work by British Romanticist artist, William Turner, with the likes of Grand Canal Venice and The Grand Canal Scene a Street in Venice.
This huge and complex artwork took years to complete and was actually commissioned as early as 1555. It would take several years after Titian's death before his studio was finally able to finish it off and deliver this extraordinary artwork.
A Doge itself is defined as the chief magristrate of Venice or Genoa, sometimes translated as Duke. This role provided a leader for the Most Serene Republic of Venice from 697-1797, with the final Doge being Ludovico Manin who fled Venice due to the passing of power to Napoleon's France.