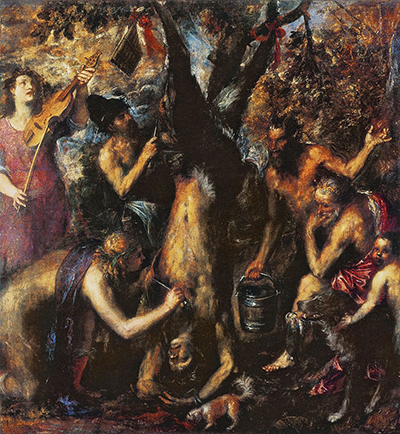 Buy Art Prints Now
from Amazon
* As an Amazon Associate, and partner with Google Adsense and Ezoic, I earn from qualifying purchases.
The Flaying of Marsyas arrived late into Titian's career, circa 1570–1576 and there is some disagreement over whether it was completely finished
It is a large painting, which is typical of Titian, standing over two metres tall and wide and the original work can now be found at the National Museum, Kroměříž in the Czech Republic. There remains a small signature from the artist which leads most to believe that it was indeed completely finished.
The content found in this artwork is based on a mythological theme, which continues into several other Titian paintings. This is a highly memorable painting because of the amount of activity that is spread right across the canvas as well as the powerful story that the artist incorporates into it.
Marsyas foolishly challenges Apollo and is punished ultimately with death. This violent scene features his flaying which is carried out by multiple figures which add interest to the canvas. Bronzino also famously produced his own version of this story from ancient Greek mythology, whilst Giulio Romano produced a drawing which can now be found at the Louvre.
The horrific violence found within The Flaying of Marsyas could almost be from the mind of another Renaissance artist, Hieronymus Bosch. He himself would draw his ideas from the depths of his creative imagination, where as Titian here has chosen to produce his own take on an existing narrative.
Marsyas is a character who appears in countless artworks from the Renaissance, perhaps most famously on the ceiling of the Stanza della Segnatura in the Vatican in Raphael's most significant fresco. There is some evidence to suggest that Titian's Flaying of Marsyas was influenced by the work of Albrecht Durer in Melancholia and Raphael's portrait of Michelangelo as Heraclitus in The School of Athens.