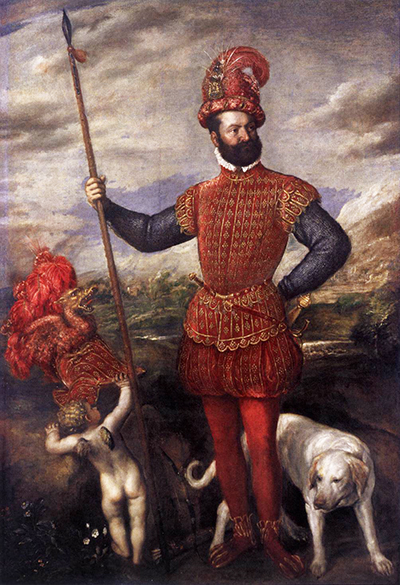 Buy Art Prints Now
from Amazon
* As an Amazon Associate, and partner with Google Adsense and Ezoic, I earn from qualifying purchases.
Man in Military costume is a unique masterpiece done by Tiziano Vecellio (Titian) who was considered as one of the greatest masters of the Italian Renaissance, is especially well known for his use and application of colour.
Like James Baldwin once stated that Art is like confession, and that if the artists have to survive they have to tell the whole story and puke the anguish up. This piece of art is every bit that expression. Man in a military costume, is a portrait painting which depicts a man who is wearing a military-like a costume appearing to be portrait like, while he is surrounded by a pet dog and a child alongside a dragon-like red creature armour. The illustrations in this picture stand for different meanings some being. The splendour suit of armour to mil leadership, hunt and love. The size of the painting is 229×156 cm with the style he used being Mannerism which was a late renaissance label.
The portrait was painted between 1550 to 1552. During this time Titian was already famous with his work widespread. On his fame, Holy Roman Emperor Charles V commissioned the painting with the idea of great military leaders. This painting was simple for it used only oil colours and canvas. Titian had ample time to prepare for this since he had moved to a new studio. To properly paint this one he Titian had help from his son Orazio.
The people responsible for holding this unique masterpiece is believed to be a museum in Kassel Germany. Museumslandshaft Hessen Kassel is the name of the museum which owns this art piece up to today. Titian being a renaissance genius, he was inspired by the beauty of colours in art.
Titian's work though seen throughout the generations of artists, Anthony van Dyck, Rembrandt, Diego Velázquez and Peter Paul Rubens are among those who were influenced by this Renaissance master. Though Titian earned his name in the renaissance field, we can see clearly that most of Titian's work was greatly influenced by the significance of Giovanni's interest in experimenting with his colour palettes to generate beautiful and expressive tints allied with the intensity and atmospheric influences of his landscapes present.