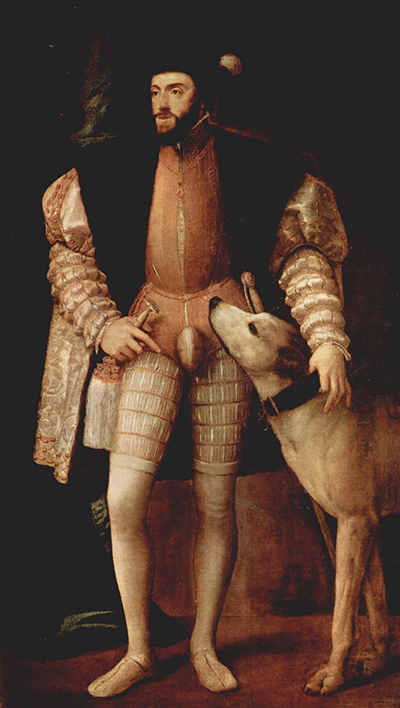 Buy Art Prints Now
from Amazon
* As an Amazon Associate, and partner with Google Adsense and Ezoic, I earn from qualifying purchases.
The portrait of Charles V with a dog was painted by Titian in 1533. It is a portrait of Charles V, the Holy Roman Emperor holding a dog. The painting was passed from Charles to the Spanish Royal Collection then later it was passed to Prado, the current owner.
Titian, the great Italian Renaissance painter began his life-long royal patronship by painting this portrait. Titian's Charles V with a Dog portrait is a representation of a sombre vision of might and great reserve.
This painting is a reinterpretation or copy of a portrait of Charles that was done by Jakob Seisenegger in 1932. The original painting did not please the subject so during his stay in Bologna in the year 1533, and Titian happened to be there too. Charles paid Titian 500 ducats to paint the new version of the painting. The new version by Titian is the same as the predecessor but it has a completely transformed composition. Titian stylised Charles' body by increasing fur wrap's size, raising his eyes' position, decreasing the doublet's size, and lowering the horizon.
All these adjustments make Charles fill the whole space. Unlike the original painting, Charles is shown approaching a viewer, the space around him is emptied and simplified. Titian used warmer colours to perform this effect. Titian's painting of Charles V with a dog inspired Goya's 1799 Charles IV who is painted in his hunting clothes.
Titian's painting of 1533 marks the beginning of his relationship with one of his most important patron, Charles V who was best-described as Monarch of the world. In their early years of knowing each other, they had started off badly when the emperor only paid the great artist a mere ducat for the amazing painting. The painting is based on the full-length work that has been created by another painter, Jakob Seisenegger.
Nobody in recent history had ruled a large number of territories like Charles V. Charles V was not an easy subject and sending out the right image was crucial to him. One of his most remarkable features was his jutting chin that didn't make it easy for him to completely close his mouth.
Titian in a amazing way got around this aspect by downplaying the jaw and making the ruler fill the frame in a good way. The way Titian has made Charles fill the frame suggests a great physical presence that matches his hound. The real dog that Charles V is in the painting is noted for its normal size. To add more drama, Titian creates a shadowy backdrop and the fur against which the clothes' metallic embroidery stands out in an interesting way revealing a sombre vision of might and great reserve. Titian's painting of Charles V with a dog is a beautiful portrait with a medium of oil on canvas and dimensions of 192 cm × 111 cm (76 in × 44 in).