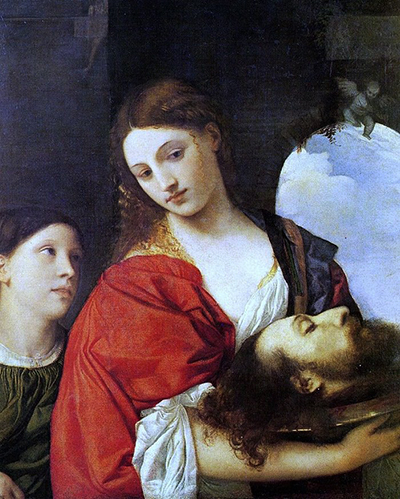 Buy Art Prints Now
from Amazon
* As an Amazon Associate, and partner with Google Adsense and Ezoic, I earn from qualifying purchases.
Salome, an oil painting of Salome with John the Baptist's head, was painted by an Italian painter known as Titian. Dating from around 1515, the painting is now in a large art collection called Doria Pamphilj Gallery located in Rome, Italy.
Like the other paintings of the same subject, sometimes it has been considered to be representing Judith with the Holofernes Head, the other biblical incident that's found in art that shows a female plus a severed male head. Also, historically, the main figure is called Herodias, Salome's mother. The painting is sometimes attributed to Giorgione, and it's now often seen as one where the personal style of Titan can be seen growing, with a touch of physical proximity plus the viewer involvement, whereby the malleable oil medium expert handling allowed the artist to invoke the sensation of a softly spun hair upon a creamy flesh.
A German-Jewish historian, Erwin Panofsky, suggested that John the Baptist's head might be a self-portrait; it's possible that Titian was touching on private life with this model, anticipating portrait painter Cristofano Allori's, Judith with Holofernes Head (1613, Royal Collection plus other versions), where this severed head was was the self-portrait and Judith plus his ex-mistress maid portraits together with her mother. Here, the model, which allowed for a degree of idealisation, has been considered to be the same that was used in the Sleeping Venus (Dresden Venus) by Titan and Giorgione c. 1510. The composition was copied numerous times, in some cases by Titian's workshop.
Salome painting relates to 2 different types of painting that were seen in Venetian painting during the era dominated by Giorgione, which includes Giorgione's posthumous influence. The first one is several 1510s Venetian paintings showing 2 or 3 half-length figure that has heads close together, usually with their expression as well as interactions enigmatic. Most of these are either in the genre of Giorgionesque or tronie subjects whereby the subjects are anonymous. However, Lucretia and her Husband by Titan is showing a specific subject, despite the fact that views vary as to the point this story shown. His Bravo might have a specific subject, the two of them are in currently in Vienna. The Royal Collection (Lovers) probably doesn't. His Tribute Money, a 1516 panel painting in oils, has a clear subject, from the New Testament as well.
The other types that it relates to is the mid-1510s half-length female figure of Belle Donne from Titian's series, which also includes the 1571 Lucretia and her Husband by Titan, and the Uffizi-based single figures of Flora, Vanity in Munich, the Violante and the Woman with a Mirror which can be found at the Louvre Museum. Most of these have portraits appearance and were sometimes considered as contemporaries as leading Venetian courtesans portraits. They are best regarded as idealised figures of beautiful women. That type lasted for a long time in Venetian painting and was made by various other artists, including Palma Vecchio who managed to make a speciality of them.