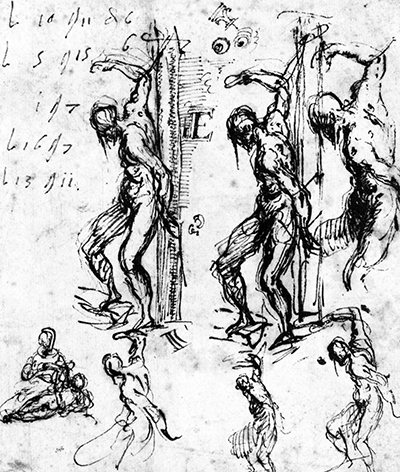 Buy Art Prints Now
from Amazon
* As an Amazon Associate, and partner with Google Adsense and Ezoic, I earn from qualifying purchases.
Titian produced this series of portraits on a single sheet of paper in order to perfect the angled pose of Saint Sebastian for a later painting
Even the most skilled and experienced draughtsman would require considerable practice and planning when working on each new composition. The slightest lack of focus could damage the balance of a figure, leaving complex combinations of parts of the body to be adjusted.
Draughtsmen during this period would often re-use paper for multiple artworks, cramming creative strokes into every last area. Recto and verso are the terms used for when both sides of the paper were made use of and this was common when artists experimented with ideas. Depictions of anatomy were the most common genre for this, with the complex body requiring endless practice in order to look realistic.
These studies of Saint Sebastian concentrated on his posture around the upper body, how his head would be angled and also the way in which his legs bent. The slightest error in this genre can be spotted by even the most casual art fan, such is our knowledge of the human body.
This drawing can only ever be a study sketch - the repetition of the scene across the paper, the slight tweaks from one to the next and of course the subject matter that would always be just a single element of a larger composition. As his depiction was repeated it must have been for his own benefit, rather than as guidance for others.